Away Day: Expanding the impact of IGSD work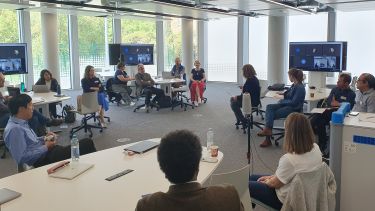 Fellows from across the Institute for Global Sustainable Development came together for a Strategic Away Day. They convened in the new Social Science Building The Wave and explored the possibilities of hosting events at this new venue. After a horizon-scanning presentation from the director, there was a key panel in which fellows from different departments shared perspectives on how to maximise research opportunities and impact work. This allowed for some creative and supportive peer-mentoring across disciplines and career stage which has always been a hallmark of the IGSD
community of researchers. Afternoon sessions in groups reflected on research communication, on equitable partnerships, on new developments in global health research, and on shaping the future of the environment research theme. IGSD Impact Lead Dr Emma Heywood facilitated a specific session on knowledge exchange and impact, with Lucinda Bower, the Faculty's Knowledge Exchange Manager advising colleagues on their planned activities.
Events at the University
Browse upcoming public lectures, exhibitions, family events, concerts, shows and festivals across the University.