International Report released on Digitalisation and Sustainability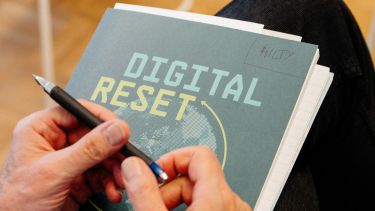 A new report entitled "Digital Reset. Redirecting Technologies for the Deep Sustainability Transformation" has been released, arguing that digitalization in its current form is exacerbating environmental problems rather than solving them, and calls for the digital economy to be fundamentally redirected. The report is the result of a two-year scientific dialogue between 15 renowned European experts, including IGSD Director Prof Dorothea Kleine, from various disciplines and institutions. They joined forces on the expert panel "Digitalization for Sustainability" (D4S), convened by the Einstein Center Digital Future and TU Berlin, funded by the Robert Bosch Foundation. The report is based on a survey and meta-analyses of current research, as well as on an interdisciplinary dialogue that included six multi-day workshops.
Prof. Dorothea Kleine, one of the co-authors, commented "to bring the digital economy onto the 1.5-degree path, first and foremost the environmental footprint and social costs of manufacturing and operating digital devices, data centers and infrastructure must be reduced. What is needed here is a combination of measures aimed not only at efficiency, but above all at sufficiency and the circular economy."
A look at the energy consumption of digital technologies, for example, reveals that producing and using digital devices and services already accounts for around 8 to 10% of global energy demand. Scenarios assume a further usage-related increase of 50 to 80% by 2030.
As Prof. Dr. Tilman Santarius of TU Berlin and the Einstein Center Digital Future, and lead author of the report, states: "None of the big tech companies is on a development path compatible with the 1.5-degree target of Paris". The two great environmental hopes, that digitalization can increase energy efficiency and that digital services can substitute physical products, are not materializing in reality. "Unfortunately, the savings potential of digitalization is eaten up by more intensive use of digital technologies," Santarius says.
The report can be downloaded here.
Flagship institutes
The University's four flagship institutes bring together our key strengths to tackle global issues, turning interdisciplinary and translational research into real-world solutions.