Dr Judith Krauss
Institute for Global Sustainable Development
Post-doctoral Researcher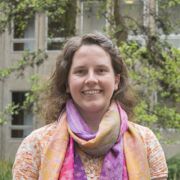 j.krauss@sheffieldl.ac.uk
Interdisciplinary Centre of the Social Sciences (ICOSS)
Full contact details
Dr Judith Krauss
Institute for Global Sustainable Development
Interdisciplinary Centre of the Social Sciences (ICOSS)
219 Portobello
Sheffield
S1 4DP

Profile

Judith joined the Institute in January 2019 as a post-doctoral researcher on the CONVIVA – "convivial conservation" – research project. This builds on Judith's previous lectureship on Environment, Climate Change and Development at the University of Manchester's Global Development Institute, where communities living with protected areas in Uganda was one focus for her teaching, public engagement and fieldwork. This new post equally draws on Judith's PhD research on the intersection of ecological, socio-economic and commercial priorities in cocoa sustainability initiatives in Latin America, finding out how differently cocoa producers, cooperatives, NGOs, companies and consumers understood 'sustainability'. Prior to her PhD, Judith worked in civil-society, public-sector and private-sector organisations in Europe and North Africa, including German development cooperation, World Bank, IIED and the German Ministry for Economic Co-operation and Development.

Judith's PhD thesis looked at the environmental side of cocoa sustainability initiatives, investigating the multitude of socio-economic, environmental and commercial priorities which different stakeholders associated with sustainability. Subsequently, Judith has published on a variety of facets of cocoa sustainability and has explored particularly the relevance of representations in environment and development, which will be a key focus of her post-doc at Sheffield on convivial conservation. In this new project, Judith is particularly fascinated by thinking about promoting conviviality in conservation and beyond, which to her means encouraging a greater sense of solidarity and awareness of how connected and interdependent everything and everyone in our world really is, and thus better ways of living together. Given Judith's diverse background working in civil society, public sector, private sector and academia, she is passionate about bringing together voices across all stakeholder types and backgrounds and empowering particularly voices from the global South.

Full profile and publications, including podcasts and reports from Judith's PhD, as well as thoughts on solidarity work.