Nikolaev lab
In the Nikolaev lab, we are interested in understanding how the auditory and visual information from the outside world are combined and compared in the brain to allow animals to perform day-to-day tasks, such as localisation of moving objects and social interaction.
Lab Leader: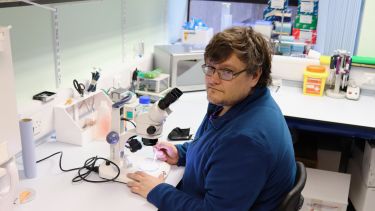 Dr Anton Nikolaev
Lecturer in Neuroscience
School of Biosciences
Development, Regeneration and Neurophysiology
a.nikolaev@sheffield.ac.uk
+44 114 222 5113
Heather McCourty
PhD Student
My project involves the optimisation of neuronal differentiation using stem cells via an automated robotic system.
hjmccourty1@sheffield.ac.uk
Jianbo Zhou
PhD Student
The goal of my project is to describe heterogeneity of signalling pathways in patient-derived GBM cells using experimental paradigm that preserve cells for further analysis. I will image fluorescent reporters of intracellular signalling molecules and will study differences in individual cells in response to application of multiple growth factors. 
jzhou62@sheffield.ac.uk
Berardo Manuel Sanchez Tafolla
PhD Student
The focus of my research is the building of neuronal circuits in vitro with automated cell manipulation techniques.
bmsancheztafolla1@sheffield.ac.uk
In collaboration with another member of our department, Dr Paul Gokhale, we are trying to build very simple neural circuits with given properties (e.g. logical AND, logical NOT etc.) out of cancer stem cells (NT-2 and Neuroblastoma cell lines) differentiated into neurons. We would like to optimise the conditions of differentiation into different types of neurons, make cells grow axons in a particular direction and form synapses with particular neurons in a controlled way. 
1. Sandra Toledo Rivera
2. Katharina Bergmann
3. Konstantinos Lygdas
4. Elliot Birkett: Studying integration on visual and olfactory information in the zebrafish brain.