Topics in Early Modern Studies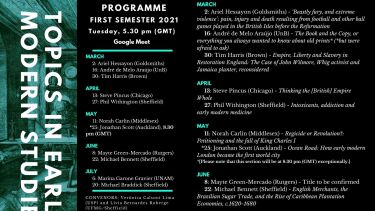 ---
Description
We are happy to announce a new seminar series called "Topics in Early Modern Studies". The series is organised by Livia Bernardes Roberge (Sheffield), and colleague Verônica Calsoni Lima (USP/Goldsmiths London), and will run on Tuesday's at 5:30pm (GMT).
March

2: Ariel Hessayon (Goldsmiths) - 'Beastly fury, and extreme violence': pain, injury and death resulting from football and other ball games played in the British Isles before the Reformation

16: André de Melo (UnB) - The Book and the Copy, r everything you always wanted to know about old prints* (*but were too afraid to ask)

30: Tim Harris (Brown) - Empire, Liberty and Slavery in Restoration England: The Case of John Wilmore, Whig activist and Jamaica planter, reconsidered

April

13: Steve Pincus (Chicago) - Thinking the [British] Empire Whole

27: Phil Withington (Sheffield) - Intoxicants, addiction and early modern medicine

May

11: Norah Carlin ( Middlesex) - Regicide or Revolution?: Petitioning and the fall of King Charles I

*25: Jonathan Scott (Auckland) - Ocean Road: How early modern London became the first world city

*[Please note that this section will be at 8:30pm (GMT) exceptionally.]

June

8: Mayte Green-Mercado (Rutgers) - Visions of Loss and Restoration: Moriscos, Conversos, and the Circulation of Iberian Apocalyptic Narratives in the Early Seventeenth-Century

22: Michael Bennett (Sheffield) - English Merchants, the Brazilian Sugar Trade, and the Rise of Caribbean Plantation Economis, c.1620 - 1680

July

6: Marina Garone Gravier (UNAM) - *Mujer y TipografÍa en el Mundo del Libro Antiguo de América Latina

*[Please note that there will be consecutive translation.]

20: Michael Braddick (Sheffield) -  Against anti-formalism: John Lilburne, the Levellers and legal agency
Any inquiries about registration should be sent to topicsinearlymodernstudies@gmail.com
Events at the University
Browse upcoming public lectures, exhibitions, family events, concerts, shows and festivals across the University.