Students' Union Officers 2020-21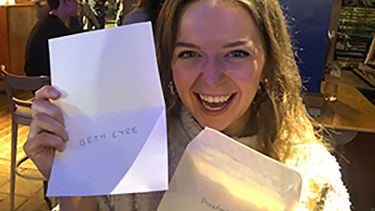 The 2020-21 Students' Union Officers have been announced and we're delighted that the President and Women's Officer roles are both being filled by history graduates. Beth Eyre and Lily Grimshaw will take over their new roles in June - congratulations both of you! We look forward to seeing everything you achieve over the coming year.
In my final year, I decided to run to be President in the Student Union Elections. This is something I had always had an interest in, participating over the years as the History Councillor at SU Council, as Education Officer of History Society and as an academic representative. Just before lockdown, it was announced I had won the election and I will be starting the role in mid June!

The history department has given me so many skills that I used to campaign with, and will hopefully use on the job too. SU President is a full time, year long and paid role working to represent all the students at the university. If you have any interest in standing for students and being part of the change, not only in the SU and university, but in the world too make sure you get involved! Standing for positions can be daunting, but the history department will always provide a basis of support and the experience you gain is second to none. Fingers crossed I can get to introduce myself to you at some point next year - bring on 2020/2021!

Beth Eyre

Students' Union President 2020-21
Explore the University
Discover why Sheffield is the right choice for you at one of our open days or events.