Dr Charles West
M.A. (Cambridge), MPhil (Birmingham), Ph.D. (Cambridge)
Department of History
Reader in Medieval History
Director of Graduate Studies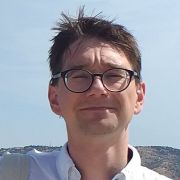 c.m.west@sheffield.ac.uk
3.10, Jessop West
Full contact details
Dr Charles West
Department of History
3.10
Jessop West
1 Upper Hanover Street
Sheffield
S3 7RA

Profile

I joined the Department of History as a lecturer in 2008, after a PhD at Cambridge and a research fellowship at Oxford. I research and teach the history of Europe between the seventh and twelfth centuries.

My research has been supported by grants from the Arts and Humanities Research Council and the Humboldt Foundation, and I have held visiting fellowships at the Eberhard Karls Universität Tübingen, Sidney Sussex College Cambridge, and the University of Edinburgh. 
Research interests

Medieval and Ancient Research Centre at the University of Sheffield 

Current research

My research is focused on earlier medieval European history c. 600 - 1200.

Past projects include books on the Feudal Revolution, the Carolingian cleric Hincmar of Reims, the role of writing in early medieval Europe, and the nature of early medieval rural communities, as well as a study of the secular in early medieval Europe, set in a global perspective.

I am currently writing a book for Oxford University Press on eleventh-century Europe, provisionally titled Between Reform and Revolution, and beginning a new project on corruption and simony.

I am fascinated by the challenges of interpreting the notoriously enigmatic sources of the earlier Middle Ages, and in my work I have sought to provide the richest readings possible to them across a range of textual genres: restoring authorial agendas, reading against the grain, and attempting to harness this evidence where possible to an early medieval history from below that is sensitive to political and social context.

I am also interested in the potential of new forms of technology for creating and sharing knowledge about the past.

My research has been supported by an AHRC Leadership Fellowship and a Humboldt-Stiftung Fellowship. In 2016 I was a visiting scholar at the University of Edinburgh and a visiting researcher at the Eberhard Karls Universität Tübingen.

In 2020 I was a visiting fellow at Sidney Sussex College Cambridge, and was awarded a visiting professorship at the Eberhard Karls Universität Tübingen, postponed because of COVID-19.

You can follow my latest research on my blog, http://turbulentpriests.group.shef.ac.uk
Publications

Books

Edited books

Journal articles

Chapters

Book reviews

Datasets
Research group

Research supervision

I welcome proposals for research projects in the field of early medieval European history.

Current Students

Completed Students

James Chetwood - Tom, Dick and Leofric: The Transformation of English Personal Naming, c.800-1300
Alyx Mattison - The Execution and Burial of Criminals in Early Medieval England, c. 850-1150.

 
Teaching interests

I teach a range of medieval history courses, with a focus on Carolingian and eleventh-century European topics. At MA level, I teach a course on the theory and practice of editing Wikipedia.
Teaching activities

Undergraduate

HST112 - Paths from Antiquity to Modernity
HST116 - Empire: From the Ancient World to the Middle Ages
HST2023 - 1066 And All That
HST2520 - Revolution, Reform and Crusade in 11th-c. Europe
HST3154/3155 - Breaking up (in) the Carolingian Empire

Postgraduate

HST6089 - Wikipedia and Medieval History
Professional activities

Previous administrative roles

Senior Admissions Tutor, Level II tutor
Public engagement

My public engagement takes several forms. I run an active Twitter account and associated blog, whose focus is on medieval European history. From 2017, I began experimenting with integrating Wikipedia, the world's largest encyclopedia, into my MA teaching, leading to the creation and improvement of many pages on medieval topics. These are read by thousands of people across the world each year.

In the past, I have also brokered public lecture series with Museums Sheffield (2011-12) and with Sheffield Cathedral (2016), set up the Witness Oral History project (2011-18), and contributed to an Arts Enterprise project on the medieval records of Tinsley. I have also talked about my research to public groups such as the University of the Third Age.

In the media

I have been interviewed on BBC Radio 4 and local radio stations, and have contributed to the department's History Matters blog. I have also written for The Conversation, History Today and the London Review of Books