Dr Danica Summerlin
Department of History
Lecturer in Medieval History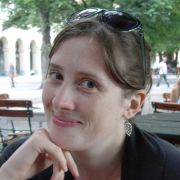 d.summerlin@sheffield.ac.uk
2.13, Jessop West
Full contact details
Dr Danica Summerlin
Department of History
2.13
Jessop West
1 Upper Hanover Street
Sheffield
S3 7RA

Profile

I joined the department of History in 2016. Prior to that, I studied at the universities of Durham and Cambridge. I then spent 4 years as a wandering post-doc, split between two years in Munich at the Stephan Kuttner Institute for Medieval Canon Law and the Monumenta Germaniae Historica, thanks to the Leverhulme Trust's Study Abroad programme, and two years at University College, London, as a British Academy Post-doctoral Fellow in their Department of History.
Research interests

My research centres on the history of Europe in the central middle ages, around 1000 to 1300. My interest is split between the history of the institutional church - i.e. the papacy & its actors - and the development and use of law, with the result that my main field of research is in ecclesiastiastical, or canon, law, although I've been known to go down many related rabbit-holes. To accompany my work on canon law, I have a passing interest in manuscripts and their creation, and a more long-lasting one with the social and institutional aspects of religious and legal history.

My monograph, focussing on the creation, transmission and reception of the canons a particular church council held in 1179, was published by Cambridge University Press, and I co-edited a collection on the use of canon law in administration with Melodie H. Eichbauer of Florida Gulf Coast University, published by Brill in 2019. Both of these engage with the question of how law and legal ideas spread and functioned in the medieval world, and investigate the relationship between the people and institutions which created laws and those which copied, used, and employed them. 

I'm now considering the wider repercussions of a large-scale rethink of our ideas around the experience of law at the time as part of a BA-funded project on medieval legal jurisdictions and through a second book on the idea of 'new law' in the late-twelfth century. Meanwhile, my current alternative rabbit-hole is based on a side interest in digital humanities and a continuing fascination with canonical collections writ broadly: I'm one of the three leaders of an international project revamping the Clavis Canonum, a key database for the study of medieval canonical collections available online via the Monumenta Germaniae Historica at http://www.mgh.de/ext/clavis/, alongside colleagues at the MGH and at the University of Bamberg. 
Publications

Books

Edited books

Journal articles

Chapters

Conference proceedings papers
Research group

Research supervision

I am happy to supervise students with interests in the central Middle Ages, but particularly those interested in the legal, religious, and political history of Europe.
Teaching interests

My teaching focuses on medieval history and the medieval church, with a Level 2 Document Option focussing on the life and legacy of Thomas Becket, the Archbishop of Canterbury who, having been murdered in 1170, became a saint 3 years later, and a special subject on religion and politics in the twelfth-century Mediterranean.
Teaching activities

Undergraduate

HST116 - Empire: from the ancient world to the Middle Ages
HST120 - History Workshop
HST2041 - Murder in the Cathedral. The Becket Affair
HST31009/10 - Popes, Caliphs, Emperors, 1095-1229

Postgraduate

HST6067 - Church, Life, and Law in the Central Middle Ages
HST6601 - Approaching the Middle Ages
Professional activities

Higher Education Academy, Fellow

Previous administrative roles

Past administrative roles have included a brief stint as schools liaison and two years as a Level Tutor for Level 3 students.
Public engagement

I have featured on Radio 4's programme In Our Time, speaking on Thomas Becket.