Heather Sadiq
Research student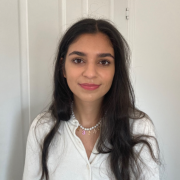 Profile

Thesis title: How were men in drag in British entertainment constructed and perceived in terms of gender and sexuality c.1919-c.1970?

Supervisors: 

Period:

 Post-1800

Thesis abstract:

My thesis surveys the use of drag by men in entertainment from c.1910 to c.1970. It considers a breadth of materials that have largely been neglected by historians including drag films, television programmes, postcards, newsreels, and stage performances. My thesis investigates how characters in drag were constructed, detecting key trends in the purpose of drag, the types of women portrayed, and their relationship with other characters. It also explores a selection of reactions to drag, utilising newspaper reviews, fan magazines, newsreel narration, and postcard inscriptions. It analyses the construction and reception of drag with special attention to its gender and sexual implications. However, I take a queer view of gender and sexuality. I argue that to understand the meanings of the historical gender and sexual terminology used to describe men in drag, we must first interrogate the boundaries and uses of contemporary gender and sexual labels, categories, and terms, and compare them with the terminology used for men in drag. I aim not to assume that man, woman, homosexual, or heterosexual are self-evident categories and instead view them as a product of their historical circumstances. To this end, my thesis also charts the development of gay and trans identities throughout the twentieth century, using them as a benchmark for assessing contemporary gender and sexual norms and the status of the drag performer within them. Through this, we can establish whether the drag performer was considered a social 'deviant' or simply a temporary comic. By situating drag within contemporary understandings of gender and sexuality, my thesis questions the definition of terms such as man, woman, homosexual, heterosexual, and trans.
Qualifications

PhD History, University of Sheffield, 2022 - present
MSc History, University of Glasgow, 2020 - 2021
MA History, University of Glasgow, 2016 - 2020
Grants

University of Sheffield, Faculty of Arts and Humanities Scholarship Award 2022-2024 
University of Glasgow, Stanislaw Westfal Award 2019
Professional activities

Research Assistant in Modern British History, assisting Dr Julia Moses with her QE Research Cultures Fund funded project 'Global Socio-Economic Rights: Sheffield in Global Historical Perspective'.