The migration and identity hub is a platform of collaboration between department staff, working on migration and migration-related questions.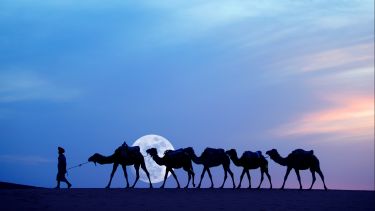 Off
About our research
The hub is involved in cooperation across the University, in particular with the Migration Research Group, and plans research activities with colleagues outside Sheffield.
Migration is a constant of human history across the globe. As such, it has attracted the attention of disciplines in the Humanities, Social Sciences and, increasingly too, Natural Sciences.
While the policy implications of migration as a universal phenomenon have constituted a challenge to scholars working on the topic, the recent advances in human genetics and paleogenetics require an increased engagement of the Humanities and Social Sciences with the Natural Sciences, and vice-versa.
Our specific interest in migration, and contribution to research into it, is twofold. We aim:
To document, explain and understand past migration, whilst
Being attentive to the influence of migration, its diversity and its change on making history
Our areas of expertise reach from ancient history to contemporary history, encompassing European, Asian, African and American history and including history of the Humanities and epistemology.
We have identified four areas of interest in order to achieve our aims:
Migration as a global and group phenomenon
Gendering migration
Migration and the state
Conceptions of migration
Migration as a global and group phenomenon
While migration has relatively recently become a global issue, it is a constant of human societies, affecting their history and the history of their relationships for a long time. An eminently global phenomenon, migration is also fundamentally a group phenomenon. Not only do people migrate in groups, but their migration takes an essential part in the internal dynamics of groups and in the interactions between groups.
A twofold macro- and meso-/micro-approach is essential to the understanding of migration and raises important epistemological and methodological challenges.
Gendering migration
While introducing attention to gender into the study of population movement is an essential aspect of 'gendering migration', this project is fundamentally driven by the attempt to tie gender and migration to power and identity and to explore the intersection between these links.
As a result of this reassessment, the centrality of family and ethnicity in migration can be restored.
Migration and the state
Migration and sovereignty are a recurring issue in the political debate. While part of the public is concerned about real or imagined incompatibilities between migration and the monopoly of the use of force by the state, the focus of the discussion usually lies with the question of the borders.
Research into migration has revisited the evidence and established that borders tend to facilitate cross-border relations overall.
Conceptions of migration
Migration have traditionally been approached from a perspective that considers sedentary life to be the norm of human societies. This bias has been reinforced by more recent emphasis on the nation-state as the most common form taken by human societies.
The postmodern and postcolonial turns have started challenging these assumptions by recovering the critical potential of nomadic representations of social life and by questioning Eurocentrism in global approaches through the promotion of subaltern views. While migration is being reassessed against the background of a turn to representations in the Humanities, history as a discipline traditionally involved with the Social Sciences has a key role to play in the necessary conversation between the renewed Humanities and Social Sciences.
As the discipline dealing with the human past, history also finds itself at the forefront of the necessary debate with paleogenetic.
---
Hub members
Laura's main research interest lies in twentieth century Jewish political history, which largely pivots around core questions of Jewish migration from Europe to North America and the Middle East. Notions of Jewish belonging and Jewish homelessness have traditionally co-defined what it meant to be a Jew, rendering Jewish history an excellent gateway into investigating the relationship between migration and (national) identity formation.
Caroline works on the neglected history of Indigenous American travellers to Europe in the sixteenth century. Migration is inextricable from our understandings of the early modern world, but perceptions of this period are dominated by westward movement: by white Europeans colonising new lands and Black Africans forcibly transported into slavery in the Americas.
Indigenous people are typically seen as sedentary, tied to their historic (or perhaps mythic) homelands. But the reality is that tens of thousands of Native people ravelled eastwards across the Atlantic from the moment of first encounter.
The vast majority of these Indigenous travellers were subject to forced migration, enslaved or brought as 'curiosities', but nobles, diplomats, traders, spouses, children, and entertainers also made their way to Europe and formed the basis of a fledgling Indigenous diaspora, especially in the Iberian peninsula.
These travellers have typically been ignored, perhaps because most died, disappeared, returned to the Americas, or merged into the Iberian peninsula's blended North African and Spanish population.
The transatlantic ties of Indigenous and mestizo families speak to the gendered nature of patterns of migration and provide an interesting counterpoint to other contemporaneous enslaved communities, for - unlike the African trade - the majority of Indigenous people enslaved in Europe were women and children, brought specifically for their greater adaptability and vulnerability.
This often-ephemeral group challenges our understandings of the nature of migration in this era, and the relationship of the state to this movement. How does one incorporate such transient, fragmentary and hard-to-trace groups into a history of migration which typically focuses on the creation of powerful diaspora identities?
Currently, Julia is interested in female migration - and how its patterns may differ from that of men - and in the migration of household/family dependants (this is connected to clerical exile: our sources usually claim that exiled clerics were isolated and alone, but if we look closely we actually learn that they usually moved with their households.
We know little about the experience of these people, so a comparative approach would help here). Both of these areas raise the question of agency in migration, for example.
Siobhan's interest in migration relates to ongoing work on Muslim women travellers from Asia and the Middle East.
Using rare travel writings, she charts how gendered experiences of travel are inscribed in text.
Julia's work analyses the relationship between government, law and civil society in Western Europe in the late nineteenth and early twentieth centuries.
Her research interests include questions related to migration and the state. Migration has posed a key issue for questions of inclusion and exclusion related to the welfare state, which is addressed in her first book. When have immigrants been entitled to social security, and why? Can individuals take rights to social welfare with them if they travel across borders -- whether local, regional or national?
Migration has also proven a conundrum for marriage and family law, which is the subject of Julia's current book project. How does family law work in practice for couples from two different countries, or for families that move from one country to another? This was a critical issue in the late nineteenth and early twentieth century, but it remains a contested topic to the present.
Colin works on the history of Ireland from the late eighteenth century to the recent Northern Ireland 'Troubles'.
The history of Ireland cannot be told with the history of migration, and one theme that he has developed an interest in is the experiences of the Irish in Britain, especially in the nineteenth century. This involved crossing national boundaries, but within the same state, which triggered complex politically, social and literary responses.
Colin has charted some of these in his article, ''Citizens of nowhere: longing, belonging and exile among Irish Protestant writers in Britain, c.1830-1970', Irish Studies Review, vol. 24, no, 3 (2016), pp. 255-74.
Bob is a historian of crime and punishment, and a form of involuntary migration, transportation, was significant form of punishment imposed by the courts in eighteenth and nineteenth-century Britain. 
His latest web resource, the Digital Panopticon, provides evidence concerning the lives of over 200,000 convicts transported to Australia. 
He is interested in how this experience affected their subsequent lives, in terms of identity (both individual and group), family formation, and any recidivist criminality.  His current study of convict tattoos provides a means of assessing convict attitudes.
Martial has developed an interest in migration from two perspectives: his work on medieval communities and their relationship, on the one hand, and his focus on the role of exiled scholars in the invention of modern scholarship on the Middle Ages, the Renaissance and, more generally, in the Humanities and Social Sciences.
His publications on migration touch on migration and exile in the Middle Ages, Early Modernity and among twentieth-century scholars as well as on the imagination of migration and exile its role in the divide between the medieval and the modern period, the constitution of modern historiography, archaeology and anthropology and the invention of comparative religious history.
Martial aims to investigate the relationship between migration, both real and imagined, and the making of medieval Europe.
Casey's research focuses on how the experience of involuntary migration influences the development of ethnic, national, and religious identity in the ancient Near East. To understand the impact of involuntary migration it is necessary to give involuntary migrants themselves a voice.
The Hebrew Bible offers a unique opportunity to do so since it is an exceptional archive of testimony from involuntary migrants in the ancient Near East about their experience and its impact upon them. Therefore, Casey's current research explores such texts as the book of Genesis through themes suggested by the study of forced migration.
Foregrounding involuntary migration will yield new exegetical insights on them, offer new evidence for reconstructing Israelite history, and support a fresh perspective on how to study migration across the ancient world.
Andrew's research pertains principally to the 'migration and the state' subtheme, and focuses specifically on how the French, Polish, and East and West German states attempted to control movement across river borders within each bloc during the Cold War.
Along both the Rhine and the Oder Rivers, local actors developed their own practices for engaging with these historically contested borders, turning them to their advantage in constellations of permeability as well as of relative closure. Indeed, farmers, fishermen, and cross-border workers in East and West often developed similar strategies for confronting the problems of both the planned economy and liberal capitalism.
In this sense, realities on the ground were perhaps shaped more by who one was (profession, gender, etc.) than by where one stood in relation to the so-called 'Iron Curtain'.