The Slavery research hub brings together researchers working on slavery and unfreedom across multiple historical contexts and periods.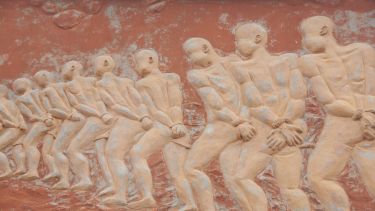 About our research
We aim to provide a venue for our members to share their ongoing research, and to facilitate dialogue between different historiographical and methodological approaches to the study of slavery.
We currently run a reading group for those interested in the histories of slavery, and have oriented our conversations and workshops around four primary research themes:
Spaces of enslavement
Languages of slavery
Resilience and resistance
Archives of slavery
---
Hub members
Emily is interested in cultures of humanitarianism and abolitionism in the nineteenth and twentieth centuries.
Her research interests link to her first book, Saving the Children: Humanitarianism, Internationalism and the British Empire, 1914-1970.
Michael has just completed his PhD in the Department of History. His doctoral research examined the merchants in the City of London who financed the development of sugar plantations and African slavery on Barbados in the 1640s and 1650s.
He also has a secondary research interest in the forms of forced labour deployed by the English East India Company in Asia during the 17th century.
Mark is a lecturer in religion. He is interested in the institution of slavery in the ancient world, particularly in the contexts of ancient Judaism and Christianity, and has written on the punishment of slaves, especially that of crucifixion. He is also interested in the Arab slave trade in its religious context.
Andrew is a lecturer in American history. He has written about the aftermath of emancipation in the U.S. South, the language of 'wage slavery' in the pre-Civil War North, and the ways in which ideas about slavery and nationhood shaped urban life between the 1830s and 1860s.
Nicola is currently researching the links between the Spencer and Spencer Stanhope family of Cannon Hall, Barnsley and slavery in the eighteenth century.
Rosie is a lecturer in American history. Her research explores the relationships between enslaved women and their female enslavers in the American south.
She is especially interested in mothering, childhood, and labour in the slaveholding household, and the roles white women play in systems of slavery.
Erin is a lecturer in early modern history. She is embarking on a new project dealing with slavery, race, and religious conversion in early modern Italy, at the height of the Catholic Reformation.
As part of her research into Native travellers to Europe before the founding of Jamestown, Caroline works on the neglected history of the thousands of Indigenous Americans enslaved in Europe in the sixteenth century. .
James' research interests are related to slavery in that he is concerned with the economy as bound up in relations of power and dependency.
Phil is a professor of social and cultural history. He is interested in the assimilation of the language of slavery into English between the sixteenth and eighteenth centuries; in the way this language was increasingly applied and used by English men and women; and in its exportation across the Atlantic.