How we're improving race equality
From updating our Race Equality Strategy and Action Plan in 2021 which aims at improving the representation, progression and success of our BAME students and staff, to opening and supporting respectful dialogue exploring these difficult issues, we are committed to improving race equality.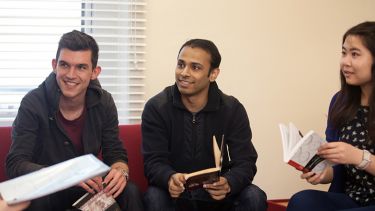 We know that we have a lot more to do. We have had many conversations, particularly with our Black students and staff, about the need to improve our support provisions and about how we need to do more to help people feel safe, valued and confident about the University's approach to race equality. We are listening, we will do more and we are absolutely committed to long-term actions that will improve our race equality and culture for everyone.
The following is an overview of the work that has taken place so far and a look at some of the actions for future focus:
---
Our Race Equality Strategy and Action Plan
Since the publication of our Race Equality Strategy and Action Plan we have been taking actions to improve race equality at Sheffield.
Following an extensive consultation with BAME students and staff and specifically targets issues of under-representation, progression and attainment. One of our key objectives is to close the differential award (attainment) gap for BAME students at the University, which stood at 8.5 per cent in 2018.
---
Race equality programme for all new students
In 2019–20 we implemented a three-phase race equality programme for all new students. The programme includes:
An animated video played during welcome talks to introduce new students to the history of race-related issues in the UK
Lectures that were facilitated by student champions to explore this issue further
Race conversations that were shaped by feedback and comments received from the previous phases where students could explore key issues on racism in more detail
In 2020, this programme was delivered virtually to over 700 students, including Students' Union society leaders, sports club committee members and student ambassadors. 
Feedback received from attendees of our Race Equality Lectures showed that 85 per cent are more confident about their understanding of racism and microaggression and and 87.7 per cent now have a better understanding of the benefits of a diverse, inclusive curriculum. 
Race Equality Champions are delivering the race equality programme to help facilitate open discussion.
---
Training for student societies
At our Students' Union, every student society must have an inclusion officer on their leadership committees. These elected students work to ensure that inclusion and accessibility are at the heart of all society activities and they receive training and support from the Students' Union to ensure they are equipped with the skills, knowledge and confidence to understand and tackle systemic barriers to participation that students face. In addition, annual anti-racism training is now compulsory for all sports teams. It is also offered to all society committee members.
---
Training for student ambassadors
We have expanded the training we provide to student ambassadors to include guidance on equality, diversity and inclusion. This includes highlighting specific examples of situations that they will be involved in, such as interacting with prospective students on University open days and in outreach schemes.
---
Access and Participation Plan
We are committed to reducing the awarding gaps experienced by Black and Asian students and have written targets specifying this into our Access and Participation Plan.
---
Training for student support services staff
We have committed funding to provide additional training to our student support services staff to enable them to offer better support to our Black, Asian and Minority Ethnic (BAME) students. We're planning for the training to be completed before the new academic year.
---
Racism in higher education training for staff
Over the past year more than 130 staff in critical roles, such as heads of departments and members of the University Executive Board, have attended a series of full day, in-person workshops from Advance HE on the subject of racism within the UK higher education sector. So that we can offer race equality training to more staff, we're looking at a mix of online and face-to-face training for the next academic year.
---
Mandatory Equality, Diversity and Inclusion training
As part of our commitment to creating a University culture that ensures all members of our community feel they belong and are treated with respect, we have launched new equality, diversity and Inclusion mandatory training for staff and postgraduate researchers. This baseline training will provide our staff with the core foundations and understanding on diversity and inclusion. 
Over 2,500 staff members have already completed a new online mandatory training module which was launched in November 2020, this is part of a broader development programme as we continue our focus on progressing race, gender, disability and LGBTQ+ equality at Sheffield.
---
Student recruitment
We have dedicated a member of staff in Student Recruitment and Admissions to work nationally to address our representation and encourage more students from BAME backgrounds to apply to Sheffield. This year we have formed a new partnership with naothe to support new Scholarships for British Muslim students at PGT level.
---
Report + Support
We launched Report + Support, an online platform for staff, students, and external visitors to report and access support about harassment and discrimination of any kind. This platform is reviewed every few months to ensure that it remains fit for purpose.
---
Understanding the impacts of Covid-19
We are undertaking an Equality Impact Assessment to ensure that we understand the consequences of Covid-19 for the health, wellbeing and work lives of our BAME staff, amongst other groups, as we plan the phased return to campus. We are also planning to contact students and staff to find out how Covid-19 has impacted their wellbeing, their access to resources and their learning and teaching experiences.
---
Inclusivity in learning and teaching
Inclusivity remains a key priority for learning and teaching in the 2020-21 academic year and, as part of this, we will continue to work with students and staff to decolonise the curriculum.
Through engaging in crucial conversations to understand what decolonisation means for education across all disciplines, we are developing materials to inform teaching staff and will adopt a University wide definition of decolonisation. This is a vital piece of work that has been led by students nationally to embed an inclusive culture at universities.
---
Race Equality Charter
Over the next few months we will begin to work through Advance HE's Race Equality Charter and ensure that the actions set out in our Race Equality Strategy and Action Plan are aligned with the charter. The charter aims to improve the representation, progression and success of minority ethnic staff and students within higher education and it provides a framework through which institutions work to identify and self-reflect on institutional and cultural barriers standing in the way of minority ethnic staff and students.
---
Engaging in conversations about racial inequalities 
We continue to engage in discussions about racial inequalities. Dr Tony Williams and Dr Jules Holroyd hosted an event to discuss implicit biases attended by staff and students. A virtual discussion panel was also held regarding the progress the University has made so far and how best to continue to progress our race equality work.
---
Contact us
If you have any questions or feedback about the University's race equality work, you can email raceequality@sheffield.ac.uk.
Report + Support
An online platform for all staff and students to report and access support about harassment and discrimination of any kind.