Acclaimed screenwriter and playwright.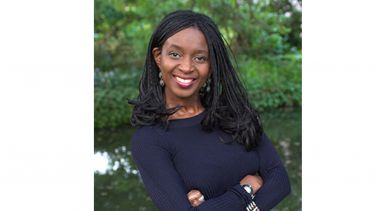 Ade was born and brought up in West London by Nigerian parents, along with her three sisters. She came to Sheffield to study English Literature in 1981 and loved the bustling, multi-cultural and energetic city.
She wrote for the student newspaper Darts and believes that her Sheffield experiences laid the foundation for her career in telling stories.
After graduation, she wrote as an arts journalist, and later formed a PR company which focussed on promoting other artist's work. It was during this time, and for this work, that Ade was named London's Top Youth Entrepreneur by the London Enterprise Agency.
Following this Ade developed an interest in screenwriting, and in 1992 received a Fulbright Scholarship to pursue screenwriting for her masters in California.
She stayed in the US for a time, working in Hollywood for Disney, New Line and the Sundance Institute as a story analyst.
After five years in the USA Ade returned to London. After teaching scriptwriting at Goldsmiths, the University of London for a time she turned her attention to writing for theatre.
Her debut play, Pandora's Box, provided a moving portrayal of the experience of the African diaspora.
The show sold out in London before touring nationally and was nominated as Best New Play at the Off West End Theatre Awards.
Through her work she has promoted the untold stories of African heritage, founding the company Spora Stories. The group creates original scripts for both stage and screen and has been widely recognised for its work.
During her sterling career, Ade has been a Royal Literary Fund Fellow and held the position of the British Film Institute writer-in-residence.
In 2016 she was presented with the Professor Robert Boucher Distinguished Alumni Award by the University. The award recognises alumni who have achieved distinction in their profession and made outstanding contributions to business and community life and is named in honour of a former Vice-Chancellor.
Report + Support
An online platform for all staff and students to report and access support about harassment and discrimination of any kind.