Chair in Paediatric Musculoskeletal Imaging and Honorary Consultant Paediatric Radiologist. Chair of the Black, Asian and Other Minority (BAME) Staff Network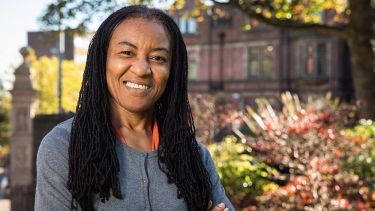 As Chair in Paediatric Musculoskeletal Imaging and Honorary Consultant Paediatric Radiologist at Sheffield Teaching Hospitals NHS Foundation Trust, Professor Offiah investigates the imaging of children's bones and muscles.
Specifically, in suspected abuse and diseases with which abuse may be confused such as osteogenesis imperfecta, also known as 'brittle bones disease'; which makes bones fragile and prone to fracture and can be difficult to differentiate from fractures caused by inflicted trauma.
Her research focuses on discovering better ways to diagnose child abuse by improving fracture detections and confirming whether the bones are medically susceptible to fractures or are in fact healthy and the fractures are more likely to have been caused by inflicted trauma.
Professor Offiah is incredibly active in the University community and beyond. At the University of Sheffield, she is Chair of the BAME Staff Network Committee and Director of Research and Innovation for the Department of Oncology and Metabolism.
Externally, she is Convenor of the Skeletal Dysplasia Group for Teaching and Research and within the European Society of Pediatric Radiology, she is Chair of the Child Abuse Task Force and of the Publication Committee. She practices as a Consultant Radiologist at Sheffield Children's Hospital NHS Foundation Trust.
She said: "Sheffield is the perfect place for my research as it has a busy Emergency Department at the Children's Hospital, it hosts the Mellanby Centre for Bone Research - which looks after the largest cohort of children with osteogenesis imperfecta in Europe - and is the home of the Insigneo Institute; the University's specialist research centre for the development, validation, and use of in silico medicine technologies in areas of fundamental and applied biomedical modelling, imaging and informatics.
"This is just to name a few reasons why the work I do is possible, challenging and exciting. Ultimately, I hope that my research contributes to improving children's lives. I'm keenly motivated to influence and promote inclusive cultures and policies within the University of Sheffield and to be a positive role model for BAME students and staff."
Professor Offiah was appointed as a Professor of Paediatric Musculoskeletal Imaging, in recognition of her hard work and academic achievements in January 2020.
Report + Support
An online platform for all staff and students to report and access support about harassment and discrimination of any kind.