Visiting Academic for Post-Doctoral Fellowship in the Department of Psychology.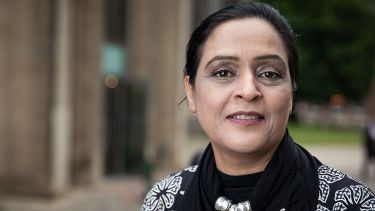 Off
Dr Huma Zafar sadly passed away in 2020. 
She was a Visiting Academic for Post-Doctoral Fellowship in the Department of Psychology. She was awarded this Fellowship by the Punjab Higher Education Commission, Government of Pakistan. Dr Zafar was also an Associate Professor in Psychology and headed up post-graduate classes in the Punjab Education Department, Higher Education Wing in Pakistan.
Dr Zafar received her masters degree in Applied Psychology with distinction for outstanding academic performance. In 2005, she earned MPhil degree in Special Education from Allama Iqbal Open University, Islamabad.
After being awarded the Indigenous Scholarship in 2007, Dr Zafar did her MPhil in Psychology at the National Institute of Psychology, Centre of Excellence, Quaid-i-Azam University, Islamabad in 2009, and PhD in Psychology at the International Islamic University, Islamabad in 2014.
She co-authored and edited books in the area of psychology and has national and international publications to her credit. She was an editor and peer-reviewer of national and international journals.
Dr Huma conducted numerous workshops and delivered lectures on psychological issues in Pakistan. Besides this, she appeared in various TV and radio programs as a guest speaker.
Dr Huma was also taken on board by BBC radio to suggest ways to help children undergoing psychological trauma. Her post-doctoral research focused on the effects of adverse childhood experiences, such as child abuse and neglect on internalising and externalising problems in adolescents.
Research in this domain promoted rigorous scientific examination regarding trajectories of emotional and behavioural disorders in adolescents and helped in developing strategies to improve the implementation of evidence-based practices.
Dr Huma joined the University of Sheffield in November 2018. She described the relationships that she built at the University as 'priceless.'
Dr Huma shared her opinion of the demonstration of institutional integrity and provision of equitable resources and opportunities to its students and faculty for learning and professional development being the hallmark of the University of Sheffield.
According to her, the policies and practices of the University cater to the needs of individuals from diverse backgrounds and cultures.
Report + Support
An online platform for all staff and students to report and access support about harassment and discrimination of any kind.