Jesrine Clarke-Darrington
Learning Technologist in the School of Nursing and Midwifery.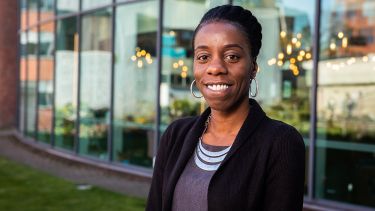 Off
After completing an undergraduate course in Multimedia, I originally started working at the University of Sheffield as a Web Resources Officer back in 2000, before becoming an Information Systems Coordinator in the Staff Development Team a year later where I worked for seven years.
I left the University for a while during which time I completed a PGCert in Online Communication and returned in 2013 when I was appointed as a Learning Technologist in the School of Nursing and Midwifery.
I love my job, it's very varied, rewarding and enables me to work with a range of staff and students supporting them to develop their digital skills and contribute to enhancing teaching and learning practice through the use of technology.
My department are always supportive of allowing me to develop myself, so I am currently studying for an MEd in Teaching and Learning in Higher Education here at the School of Education, which I have thoroughly enjoyed so far. It has enabled me to reflect on and develop my own practice from a pedagogical perspective.
In my spare time, I am part of a group who organised Sheffield's first Carnival in 20 years. It is a city-wide event that aims to bring people of all ages together to celebrate the diverse range of cultures within the city. It took place in June and featured a vibrant costume parade, which included our Lord Mayor Magid Magid.
My future goals are to complete the final year of my masters and continue to develop myself professionally whilst contributing to enhancing teaching and learning through the use of technology.
Report + Support
An online platform for all staff and students to report and access support about harassment and discrimination of any kind.