Alumna, School of Journalism, Media and Communication.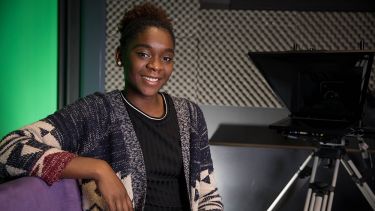 Off
I chose to study journalism at the University of Sheffield because I felt it is the best journalism course in the country. The department has great facilities and lecturers who have extensive experience.
By studying here I knew I would be giving myself a good foundation to build my media career on.
I love studying and working at the University of Sheffield because I have met lots of amazing people from all over the world.
Having diverse, friendly people around me is important to me, especially being from London, so I'm glad that that has been my experience of both the city and the University.
I am working towards a dynamic digital media career, creating videos and content for different organisations.
Through the knowledge I've learnt on my course and through external placements and jobs I've had over the last three years, I have the skills desirable in the digital media industry.
I want to own my own enterprise where I create, produce and develop videos, content and creative branding for different organisations.
Report + Support
An online platform for all staff and students to report and access support about harassment and discrimination of any kind.