Professor Siddharth V. Patwardhan
Professor of Sustainable Chemical and Materials Engineering, and Head of the Green Nanomaterials Research Group, Department of Chemical and Biological Engineering.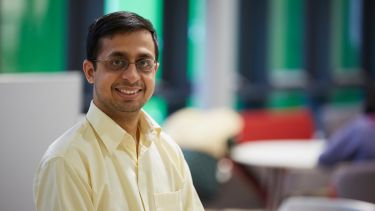 I obtained a degree in Petrochemical Engineering (B.E., Pune, 2000) and MS and PhD in Materials Science (Cincinnati, 2003) followed by post-doctoral experience in materials chemistry (Delaware and Nottingham, 2003-2008).
After taking up a short-term lectureship in Chemistry (Nottingham Trent University), I became a Lecturer in Chemical Engineering (Strathclyde, 2010-15). I moved to the wonderful city of Sheffield to take up a position of Senior Lecturer in 2016, where I became a Professor in 2018. I am an EPSRC Fellow in Manufacturing and a Fellow of the Royal Society of Chemistry.
I lead the Green Nanomaterials Research Group with a vision to develop sustainable routes to functional nanomaterials. This group focuses on the discovery of bioinspired nanomaterials, assessing their scalability and developing manufacturing technologies for energy, environmental, biomedical and engineering applications.
I find working at the University of Sheffield very rewarding due to a combination of friendly, inclusive and ambitious culture. This place has provided me with wonderful opportunities to learn, grow and fulfil my vision.
Within the department, I currently Chair the Curriculum Transformation Committee and the Search Committee. Externally, I am active in a number of national and international networks.
Along with various funding awards, I am proud to have received the Dedicated Outstanding Mentor award four times and the Supervisionary recognition twice. I have also received the Teaching Excellence Award twice.
Report + Support
An online platform for all staff and students to report and access support about harassment and discrimination of any kind.