A great way to make contacts and learn from the best of the best

Isobel Fry
Freelance Journalist
MA Broadcast Journalism
Isobel Fry is a freelance journalist, working for BBC radio stations in Manchester, Sheffield and Leeds. She graduated from MA Broadcast Journalism in 2022.
I'm currently working a freelancer - I work for BBC Radio Manchester, BBC Radio Sheffield & Global Radio in Manchester and Leeds. I mainly do reporting shifts that includes making radio packages, live pieces, collecting audio for bulletins and generally getting out and about in the patch and speaking to people. I also read live bulletins, film and create digital content for social media, and a few times I've had my work picked up and used by BBC Look North and BBC North West Tonight.
Overall, the course was the best decision I ever made, when walking into work placements and freelance work I felt prepared and like I could confidently do everything that was asked of me. This is all thanks to the amazing teaching! Having teachers that have worked in the industry and understand what they are preparing you for is amazing.
News days were another part of the course that I loved, they give you a very realistic example of what it is like working in a professional environment and what is expected of you as a journalist. The news days also gave me the chance to build a great portfolio: having professionals from the industry come into the sessions was a great way to make contacts and learn from the best of the best. I got a lot of my freelance work opportunities by keeping in contact with them.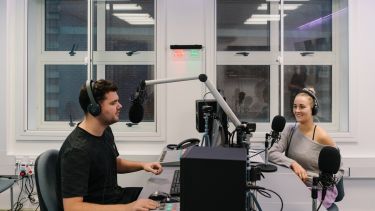 Our outstanding reputation for journalism
The Department of Journalism Studies ranks in the top five of all three of the UK's independent university league tables.
Stay connected with your University
Experience all the benefits and services that come from being a Sheffield graduate.