The Communication, Media and Journalism (CMJ) group regularly host seminars in which our own researchers and those from other institutions share their work.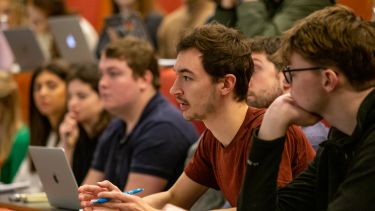 If you'd like to suggest a speaker for a future CMJ seminar, please email the seminar series coordinator Dr Dmitry Chernobrov at d.chernobrov@sheffield.ac.uk.
Owing to the Covid-19 pandemic our research seminars are currently taking place online. Please see below for details of the semester 1 programme for 2021-22. All times are UK time.
If you are not a current staff / student member at the Department of Journalism Studies and are interesting in attending any of these talks, please email the seminar series coordinator Dr Dmitry Chernobrov d.chernobrov@sheffield.ac.uk
---
Wednesday 20 October, 3pm
Book interview: 'You Country, Our War: The Press and Diplomacy in Afghanistan'
Dr Katherine Brown
President & CEO of Global Ties U.S
Georgetown University, USA
Assistant Professor
---
Wednesday 27 October, 2pm
'Afghan media: how one country's journalists went from success story to running for their lives'
Amie Ferris-Rotman
Editor at the Fuller Project
Former Reuters senior correspondent in Afghanistan
---
Wednesday 03 November, 2pm 
'Hegemony, Morality and Power: A Gramscian Theory of Public Diplomacy'
Dr Colin Alexander
Nottingham Trent University, United Kingdom
Senior Lecturer
---
November 08-11 
International Journalism Week – separate programme of guest speakers
---
Wednesday 24 November, 2pm
Book interview: 'War in 140 Characters: How Social Media is Reshaping Conflict in the Twenty-First Century'
David Patrikarakos
Writer and journalist
Poynter Fellow, Yale University
---
Postponed until semester 2
'Engaging Citizens for Climate Change – Challenges for Journalism'
Dr Ester Appelgren
Södertörn University, Sweden
Associate Professor
---
Wednesday 08 December, 11am
'Visualising Humanitarian Crises'
Prof. Roland Bleiker
University of Queensland, Australia
Professor of International Relations
Flagship institutes
The University's four flagship institutes bring together our key strengths to tackle global issues, turning interdisciplinary and translational research into real-world solutions.