The Communication, Media and Journalism (CMJ) group regularly host seminars in which our own researchers and those from other institutions share their work.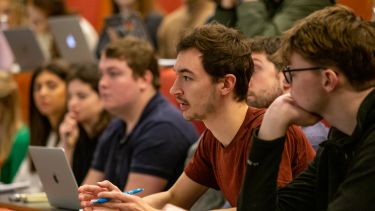 If you'd like to suggest a speaker for a future CMJ seminar, please email the seminar series coordinator Dr Dmitry Chernobrov at d.chernobrov@sheffield.ac.uk.
Owing to the Covid-19 pandemic our research seminars are currently taking place online. Please see below for details of the semester 2 programme for 2022. All times are UK time.
If you are not a current staff / student member at the Department of Journalism Studies and are interesting in attending any of these talks, please email the seminar series coordinator Dr Dmitry Chernobrov d.chernobrov@sheffield.ac.uk
---
Tuesday 1 March, 3pm
Research Showcase Talk: 'The global media 'underdog' and the 'propaganda bullhorn'
Dr Ilya Yablokov
Lecturer in journalism and digital media
University of Sheffield
---
Wednesday 9 March, 4pm
'The Evolution of Chinese Soft Power: How China Communicates to the World'
Dr Maria Repnikova
Assistant Professor
Georgia State University
---
Wednesday 23 March, 3pm
'Covert Influence: How Undisclosed Election Campaigns on Digital Media Steal American Democracy'
(To be followed by a 30 minute informal reception)
Prof Young Mie Kim
University of Wisconsin-Madison
---
Wednesday 27 April, 2pm
Book talk: 'Outside the Bubble: Social Media and Political Participation in Western Democracies'
Prof Cristian Vaccari
Professor of Political Communication
Loughborough University
Editor-in-Chief
International Journal of Press/ Politics
---
Wednesday 4 May, 2pm
'The limitations of strategic narratives: The Sino-American struggle over the meaning of COVID-19'
Prof Linus Hagström
Professor of Political Science
Swedish Defence University, and
Dr Karl Gustafsson
Associate Professor
Stockholm University
---
Wednesday 18 May, 2pm
Book Interview: 'The Terrorist Image: Decoding the Islamic State's Photo-Progaganda' 
Charlie Winter
Senior Research Fellow
Kings College London
---
Flagship institutes
The University's four flagship institutes bring together our key strengths to tackle global issues, turning interdisciplinary and translational research into real-world solutions.