The Communication, Media and Journalism (CMJ) group regularly host seminars in which our own researchers and those from other institutions share their work.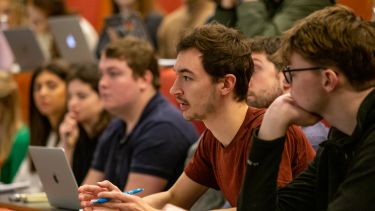 If you'd like to suggest a speaker for a future CMJ seminar, please email the seminar series coordinator Dr Dmitry Chernobrov at d.chernobrov@sheffield.ac.uk.
Owing to the Covid-19 pandemic our research seminars are currently taking place online. Please see below for details of the semester 2 programme for 2020-21. All times are UK time.
Semester 2 programme
Wednesday 10 February, 10am
Seeking Cultural Relevance: The 'culture peg' and the 'culture link' in international news reporting
Dr Miki Tanikawa
Associate Professor
Akita International University, Japan
Training the Humanitarian Eye: Missionary Print Culture's Gendered Perspectives on Truth and Duty in the Congo, 1889-1906
Prof Heide Fehrenbach
Distinguished Professor of History
Northern Illinois University, USA
This seminar, which was originally scheduled for Wednesday 3 March, has had to be postponed. We hope to reschedule the event for later in the semester and will post details here when this is confirmed.
Wednesday 10 March, 2pm
Methodology talk: 'Measuring Framing Effects'
Prof Sophie Lecheler
Professor of Political Communication
University of Vienna, Austria
See more information or register your place
---
Wednesday 21 April, 4pm
Book interview: 'Experiencing the Israeli-Palestinian Conflict: Children, Peace Communication and Socialization'
Dr Yael Warshel
Assistant Professor, Pennsylvania State University, USA
Founding Director of Children, Media and Conflict Zones Lab
See more information or register your place
---
Wednesday 5 May, 2pm
Worlds of Journalism: Journalistic Cultures Around the Globe
Prof Thomas Hanitzsch
Chair and Professor of Communication
Ludwig Maximilian University of Munich, Germany
See more information or register your place
---
Wednesday 19 May, 2pm
Social Media and Conflict in Africa
Prof Nicole Stremlau
University of Oxford; University of Johannesburg, South Africa
Flagship institutes
The University's four flagship institutes bring together our key strengths to tackle global issues, turning interdisciplinary and translational research into real-world solutions.