Science and the future of our planet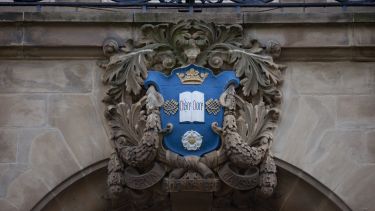 Thanks to the cooperation and research between several different disciplines at the Kroto Research Institute the students were able to get a clear idea of how, and what, science and engineering can be used for.
The day was split into three workshops which covered repairing the human body, programming a robot bee and how life in our rivers can help monitor pollution.
The day included the chance to learn about different career paths, perform practical tasks and also gave them the opportunity to learn about current research and visit a working laboratory.
---
'Programming a robot bee' workshop
The 'programming a robot bee' workshop was presented by Chelsea Sabo and provided an opportunity to learn the basics of programming and robotics.
It also introduced the pupils to the prestigious 'Green Brain Project' being led by the Universities of Sheffield and Sussex which is creating the first flying robot able to sense and act autonomously like a honey bee.
During the workshop pupils carried out a series of tasks acting out the part of both robot and programmer before finally seeing their work come to life using the robot built for the Green Brain project.
Claire Johnson and Giuilia Gigliobianco presented the workshop 'Reapiring the Human Body' which gave pupils the chance to learn more about the process behind designing medical devices and the progress of medical technology.
The workshop included a practical task which meant the students had to design, then make, a device from suitable materials for a fictional patient. The workshop was completed with a tour of the laboratory facilities at the Kroto Research Institute.
---
'Life in our rivers'
Dave Chandler presented 'Life in our Rivers' which enabled pupils to take part in a practical exercise, collecting a sample from the supplied rocks and river water and examining their sample under a microscope.
They were given direction on how to search for algae and learnt about how different types of algae can help to identify pollution levels in water.
The event was supported by University's Outreach Team and the Excellence Hub – a regional collaboration between the Universities of Hull, Leeds, Sheffield and York.