Professor Sir Harry Kroto, FRS 1939-2016
Professor Sir Harry Kroto obituary written by Professor Sir Keith Burnett, Vice-Chancellor of the University of Sheffield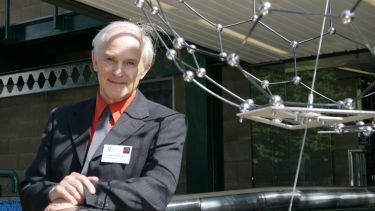 Off
Professor Sir Harold Kroto studied Chemistry at the University of Sheffield and in 1961 he obtained a first class BSc honours degree, followed in 1964 by a PhD.
In 1996 he was awarded the Nobel Chemistry Prize for discovering a new form of carbon, known as 'buckminsterfullerene', which stands alongside the two other well-defined forms, diamond and graphite.
Giant Buckyball sculpture
Professor Sir Harold Kroto unveiled the world's first 'Giant Buckyball' sculpture outside the Kroto Research Institute at the University of Sheffield in June 2006.
The sculpture stands outside the Kroto Research Institute as a fitting emblem, highlighting the importance of the Nanoscience and Nanotechnology research being undertaken in the Institute and the exciting promise of these cutting-edge research areas for combating the major socio-economic and humanitarian issues, such as environmental remediation, remedial medicine and advanced materials that now confront us.
---
Global Educational Outreach
This studio in the Kroto Research Institute is part of Harry Kroto's Global Educational Outreach network and provides a simple way of recording and publishing on the Internet any presentation that communicates science in ways interesting to young people.
It is a highly flexible medium enabling a wide range of different educational approaches to be explored and it is particularly useful for SET teachers who will find valuable downloadable teaching resource material created by the best science and technology experts and educators.
---
Buckyball workshops
Professor Sir Harold Kroto provides these workshops all around the world in his quest to engage children of all age ranges on science. On his annual visit to the University of Sheffield he works with local schools and delivers the workshop to Year 6 pupils. Read about his visit here.
---
Sir Harry is presented with portrait
Sir Harry was presented with a portrait of himself, on a visit to Sheffield in June 2010. It was produced by modern portrait artist Peter Edwards.
The portrait depicts Sir Harry at his home in Sussex.
Peter Edwards said: "When you begin to get to know Harry, apart from everything else, you become aware of a professional knowledge of the graphic arts. And from the evidence of my eyes - a gifted graphic artist.
"In my portrait of him I have attempted a strong 'graphic' image of a dynamic man in moment of still reflection."
---
Google celebrates buckyball's 25 years anniversary
The 25th anniversary of the discovery of the 'buckyball', was celebrated with a special interactive Google Doodle.
The logo was rolled out across the world on 4 September 2010 to celebrate the quarter of a century since its discovery.