Centre for Luxembourg Studies overview
The University of Sheffield is home to the international Centre for Luxembourg Studies, the only one of its kind outside of Luxembourg.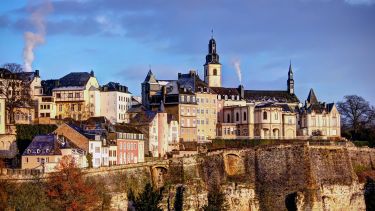 Off
Situated along the Germanic-Romance linguistic borderland, modern Luxembourg is one of the six founding member states of the European Union. Contemporary Luxembourgish (Lëtzebuergesch), though influenced by French and German, has been officially recognised as the national language of Luxembourg since 1984. French and German are also officially recognised by the 1984 language law as legal and/or judicial and administrative languages.
Multilingual Luxembourg is prosperous and enriched by the economic, social and cultural stimulation of open contacts with its neighbours. The multilingualism and multiculturalism of Luxembourg, coupled with the ongoing promotion of the national language, make it a key research site for cutting-edge research in the humanities and social sciences.
Upon the initiative of Professor Gerald Newton, the Centre for Luxembourg Studies was founded at the University of Sheffield in 1995 and was endorsed by Jacques Santer, former Prime Minister and European Commissioner. The Centre established an archive of material in Luxembourg Studies for visiting scholars from all relevant disciplines. It holds a substantial part of the archive of Stephen Williams, first English-language Director of Radio Luxembourg (1933).
This collection on Radio Luxembourg informs one of Professor Newton´s principal areas of research expertise. A further key contribution by Professor Newton to the field of Luxembourg Studies is the comprehensive volume entitled Luxembourg and Lëtzebuergesch: Language and Communication at the Crossroads of Europe (Clarendon Press, 1996).
Presently, the government of the Grand Duchy of Luxembourg generously funds an Endowed Chair in Luxembourg Studies. Dr Kristine Horner, an expert on language politics, language ideologies and multilingualism in Luxembourg, was appointed in 2010 and is building on the work of Professor Newton.
The Centre now annually hosts a Visiting Author from Luxembourg and it is linked to a number of research networks, both in Sheffield and on a global scale.
In particular, Dr Horner collaborates on research projects with colleagues at the Université du Luxembourg, including members of the Language, Culture, Media and Identities research unit.
The Centre welcomes applications for postgraduate study and postdoctoral research, especially from individuals who wish to pursue interdisciplinary projects in the humanities and social sciences. Undergraduate students also benefit from various activities at the Centre for Luxembourg Studies.
For more information, please contact Dr Kristine Horner.
Flagship institutes
The University's four flagship institutes bring together our key strengths to tackle global issues, turning interdisciplinary and translational research into real-world solutions.