MS Workshop at the ACS National Meeting & Expo 2018: Taking the laboratory to the field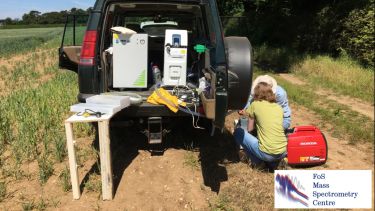 When instant mass analysis became paramount to the Sheffield University Plant Production and Protection (P3) Team, they took the laboratory directly to the field utilizing the expression Compact Mass Spectrometer from Advion. The system provided direct sample analysis and mass spectral information within seconds in the field environment, rather than having to wait days for results from the lab.
This workshop features the research led by Professor Mike Burell and Dr. Heather Walker, highlighting how they turned their SUV into a mobile mass spec unit, capable of screening the fields to obtain rapid metabolite analysis of several different varieties of wheat.
---
The utilization of this equipment is of huge benefit as it allows the knowledge that we have gained in the laboratory to be transferred and monitored quickly and easily in the field

Dr Heather Walker

biOMICS Facility Manager for metabolomics applications
---
Event details:
Fall 2018 ACS National Meeting & Expo
Workshop
Tuesday Aug 21, 9:30 am - 10:30 am
Exhibit Hall A, Expo Theater 1
New exciting PhD opportunity available!
Excited about chemical ecology?
Have a look at these two PhD projects that are fully funded and will employ mass spectrometry based metabolomics among other multi-disciplinary approaches.