My degree has given me an excellent grounding in mathematical concepts I use every day
Actuarial Consultant, Lane Clark and Peacock
After graduating from Sheffield with a BSc in Mathematics, Sonia went on to work for a financial, actuarial and business consultancy, putting the analytic and logical thinking skills she learned during her degree to daily use.
After graduation and a year of researching careers, alongside working several part time jobs, I discovered that I wanted to be an actuary: someone who deals with the measurement and management of risk and uncertainty.
I have always enjoyed maths since a very young age, and in particular statistics, so when I realised I could have a career which involved mathematical calculations including creating statistical models and forecasting future scenarios, I knew this was the path I wanted to take.
I started my career as an Actuarial Associate with PwC, based in Edinburgh. This was an excellent graduate scheme to be part of. The training was fantastic and I joined with a large group of other recent graduates, who are now very good friends of mine.
Last October, I moved to a specialist actuarial firm, Lane Clark and Peacock, based in London as an Actuarial Consultant. With my new role, I was given greater responsibility, and was able to broaden my skills even further due to variety of interesting clients and projects.
---
My degree in maths has given me an excellent grounding in mathematical concepts which I am able to use in my everyday work and study

Sonia Nayyar

Actuarial Consultant, Lane Clark and Peacock
---
I decided to focus my actuarial work in pensions, as I find the variety of work in the sector varied and interesting. The key objectives of my role are to ensure companies are managing their pensions' liabilities efficiently, and that members are receiving the correct pension.
My job involves a large amount of calculations and forecasting financial assumptions as well as providing advice to clients, producing reports and attending meetings. Alongside working, I am also studying towards completing my actuarial exams, with the aim of becoming a qualified actuary.
My job and my exams involve a large amount of calculations. Therefore, my degree in maths has given me an excellent grounding in mathematical concepts which I am able to use in my everyday work and study. As well as this, maths teaches valuable analytic and logical thinking skills which are useful in many different types of jobs.
The perseverance and confidence needed for mathematical problems can be applied to many workplace situations.
The University of Sheffield equips students with the necessary skills needed to transition into the 'real world'.
The tutors and the teaching facilities allow students to reach their academic potential and the university attracts a variety of people from all over the world, allowing students to meet and appreciate people from various backgrounds and make lifelong friends and memories.
---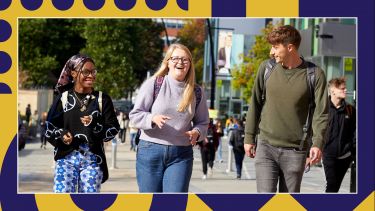 Advance Register for Clearing
We have places on our undergraduate courses this autumn. If you've already got your results you can apply now, or if you're still waiting for results get your name on the list by advance registering.