Region's renewable energy could power a steel industry revolution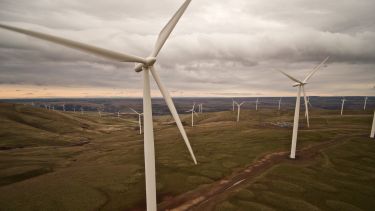 The below is a copy from the orginal article featured in the Yorkshire Post, written by Rob Parsons. 
Off shore wind turbines off  the Yorkshire coast could help  generate the hydrogen which would allow 'green steel' to be produced without damaging the  environment, according to a leading Yorkshire academic.
Professor Bill Nimmo of the University of Sheffield hopes the increased use of renewable energy sources, with wind being the main focus, will generate spare capacity which can be turned into hydrogen for use in steel production. Hydrogen is considered one of  the best hopes for reducing the  carbon footprint of steel as it can be used instead of coke, which comes from coal, as a reducing agent in the furnace in a process known as direct reduced iron.
This weekend a report said Yorkshire and the North could become a world leader in green steel in a move which could save thousands of jobs across the region if Ministers and industry leaders "act now".  
The region's historic but carbon-intensive steel industry could achieve net zero status by 2035, according to think tank IPPR North, by harnessing the potential of electrification, carbon capture storage, and hydrogen technologies.  
Its report says decarbonising northern steel would cost an average of £267m a year by 2050 but would "help lay the foundations for a stronger, low-carbon and productive industry".
Turning wind power into hy drogen involves a process called electrolysis, which could utilise over-capacity in electricity supply and is a promising energy storage option. Other options into the future could include the production of hydrogen using the same technique, utilising excess power from tidal or ocean power generators. Power from these sources would be more predictable than wind but could come with challenging locations and have possible environmental issues.  
Professor Nimmo, a Professor of Energy Engineering and Sustainability, said the manufacture of new wind turbines was a strength of the Humber region, where Siemens are located and  is one of the world leaders in this technology. He said: 
"The key to getting  the power to make the hydrogen  is getting enough spare capacity in the power generation systems through renewables including  wind. With the cost of wind turbines reducing due to economy of scale manufacturing, wind will  be the main source of the necessary renewable power.  If there are enough turbines  to generate excess capacity, over and above the normal demand  for the UK, then this can be used to produce and store hydrogen for use in steel-making. To do this more turbines need to be built leading to more jobs in the Humber region and more in come and economic development there."

Professor Bill Nimmo 

Department of Mechanical Engineering 
Last year, Boris Johnson said offshore wind farms will generate enough electricity to power  every home in the UK within a decade, as he raised the Government's target for offshore wind  power capacity by 2030 from 30 gigawatts to 40 gigawatts.  And last month the Government invested £95m in the Humber and Teesside to build the next generation of offshore wind projects. Able Marine Energy Park, on the South Bank of  the River Humber, will receive up to £75m government investment, and Teesworks Offshore Manufacturing Centre, on the River Tees, will benefit from up to £20m.  
The world's largest offshore wind farm. Hornsea Project One,120km off the Yorkshire coast, came online last year and is expected to generate 1.2 gigawatts in  energy. And two more facilities of a similar size are expected soon.  
Professor Nimmo said other sources of renewable power would be needed when the wind doesn't blow, with development work still needed on utilising the power of ocean currents to produce energy. He said: "We are developing it and I think there are plans  but I don't think there's anything major come on stream yet."  
Professor Nimmo said more investment was needed for the UK to catch up with countries like Sweden, where a demonstration plant specialising in direct reduction is already up and running. But he said the Humber and North East coast had an advantage of being on the North Sea, meaning sites like spent oil wells, gas wells and saline aquifers can be used to store carbon dioxide  released as part of the steel-making process via carbon capture  and storage processes. 
He said: "The industrial settings that we have in the Humber and right up the coast up to Teesside would allow access to geological storage sites under the North Sea. So capturing C02 produced  then transporting to these storage areas exploits a geographical advantage of the region."  
Flagship institutes
The University's four flagship institutes bring together our key strengths to tackle global issues, turning interdisciplinary and translational research into real-world solutions.