Young Innovators Award recognition for Sheffield Alumni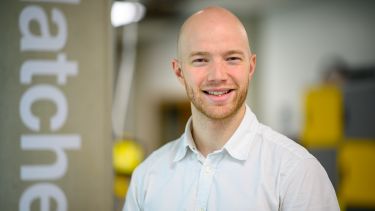 Laurence Collingwood and Ellie Morris have been recognised with a Young Innovator's 2022/23 award. Innovate UK's fourth annual Young Innovators Awards initiative supports 94 inspiring 18 to 30-year-olds with a £5,000 grant, one-on-one business coaching and an allowance.
Laurence is gamifying climate action in the workplace with his carbon footprint tracking app, Cilo, while Ellie's business, Fabulously Thriving, aims to empower women who want to heal from Complex Post Traumatic Stress Disorder and the effects of childhood trauma.
Laurence studied mechanical engineering here at the University of Sheffield, and it was then that he had the idea of an app to help people understand and reduce their carbon footprint, which eventually became Cilo. 
It's a real honour to win this award alongside some other incredible businesses like Ellie's, and it adds to my motivation to keep helping people and businesses reduce their climate impact.

Laurence Collingwood

Quote attribution...
Cilo was founded by Laurence and his co-founder Ryan Brown in 2020. They wanted to build something that would make taking climate action easy and fun, and they soon realised that businesses could benefit from what they'd built. "83% of people are more likely to want to work for your business if they can see you're willing to take action on environmental and social issues", he said, "By gamifying climate action in the workplace with our app, we can help businesses demonstrate their commitment to sustainability and build a culture for climate action from the ground up." The Cilo app was released on iOS in August 2022 and the company will begin trials of their corporate service in March 2023.
Emily Nott, Head of Equality, Diversity and Inclusion Programmes at Innovate UK said: "The level of creativity, passion, and commitment to positive change within our society and environment in this year's Young Innovators Award winners is beyond inspiring. Knowing that Innovate UK is creating opportunities and providing support to enable these young people from a wide range of different backgrounds across all parts of the UK to grow and develop their businesses makes me very proud. With the financial uncertainty this year brings, it's fantastic to see these entrepreneurs starting businesses that will improve the world and boost innovation in the UK. We can't wait to see what they will achieve next."
Indro Mukerjee, CEO Innovate UK said: "The Innovate UK Young Innovators program is an important part of our many activities to strongly develop the talent pipeline needed to further drive our innovation nation. I warmly congratulate all the Young Innovators Award winners and look forward to keeping in touch as they progress".
If you want to find out how to live a more climate friendly lifestyle, visit Cilo's website to download the app: https://www.cilo.uk.
About Young Innovators
As part of UK Research and Innovation, Innovate UK wants to give inspiring young entrepreneurs the opportunity to take their business idea to the next level through our Young Innovators programme and #IdeasMeanBusiness campaign.
The programme nurtures the talents of tomorrow to tackle some of society's most pressing challenges. The programme also aims to help build a more inclusive, accessible business landscape, whilst ensuring that every part of the country can power our collective success. It will support young people for 12 months, with award winners benefiting from a £5,000 grant, one-on-one coaching and an allowance to cover living costs.
#IdeasMeanBusiness campaign was devised to encourage and empower young people from any background to innovate and be successful. It encourages and enables entrepreneurship and innovation among more young people and brings new diverse ideas, passion and expertise into the innovation ecosystem.
Find out more: https://ktn-uk.org/programme/young-innovators/
About Cilo
Cilo is on a mission to help businesses engage their employees in climate awareness through its sustainability competition. For one month employees use the Cilo app to track their carbon footprint, set carbon saving goals, and win real life rewards for being sustainable. They then retain access to the app for 12 months to monitor their progress.
The business has won multiple awards including the UK Young Innovators Award 2022/23, Regional Champion of the Ingenuity Impact competition, and top 100 UK startup through the Santander X competition. It has affiliations with UCL, the University of Nottingham, and the University of Sheffield.
The Cilo app was released in August 2022, and the company will be beginning trials of its corporate service in March 2023. Its aims for 2023 are to secure further corporate clients and to continue to improve its service.
A world-class university – a unique student experience
Sheffield is a research university with a global reputation for excellence. We're a member of the Russell Group: one of the 24 leading UK universities for research and teaching.