Our postgraduate taught courses
All of our postgraduate courses are designed to help you develop your career and achieve your potential.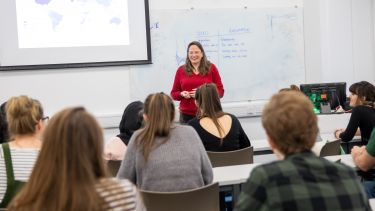 Our courses
Click on each box below for full course information: 
Learn from leading researchers in their fields
It's our mission to prolong and improve the lives of patients, and we seek to do this by conducting world-leading research in areas such as neuroscience, oncology, infectious diseases and more.
The University of Sheffield is ranked number one in the UK for the world-leading quality of our biomedical research and in the top ten for combined world-leading and internationally excellent research outputs in clinical medicine.
We have also been awarded the Queen's Anniversary Prize for innovation in neuroscience. This prize is the highest national honour that recognises outstanding work by UK universities and colleges that demonstrate quality and innovation in their research.
The impactful, high-quality research that we undertake influences how we teach across all of our postgraduate courses. In many areas, our research activity spans the
spectrum from basic science up to practical clinical applications. We pride ourselves on collaboration between clinicians and non-clinicians, and many of our courses include teaching from practicing clinicians as well as research active academics.
Benefit from a patient-focussed approach
Medical science must ultimately be to the benefit of patients. To help us better understand the needs and experiences of patients, we actively involve them in our research and teaching.
Many of our courses include a high degree of patient contact, allowing you to reflect on your learning in the context of real people with real conditions and diseases.
In 2004, we developed our 'Patients as Educators' programme to give our students as much opportunity as possible to meet and learn from real patients. The programme is internationally recognised as the largest of its kind, with more than 800 patients and volunteers involved.
Feel welcome
If there's one thing that our students tell us, it's that they truly appreciate and enjoy the friendly and supportive community that we foster. It's important to us that you feel well supported during your studies, and have the opportunity to achieve your potential.
Many of our postgraduate students go on to study for a PhD with us, or even progress into becoming staff members here, demonstrating that the positive and happy experience people have here makes them never want to leave. 
Meet our students
Weekly online events
Attend an online event when it suits you, all year round, as an alternative to an open day.
Every Wednesday, Sheffield Live sessions cover different aspects of University life. You can also meet your department and learn more about studying your subject.