Choose medicine and you'll choose perhaps the most fulfilling profession of all. Every day you'll make lives better. Over time you'll save lives too. The work you do is completely hands-on, the decisions you take critical. It's demanding work – but the rewards are immense.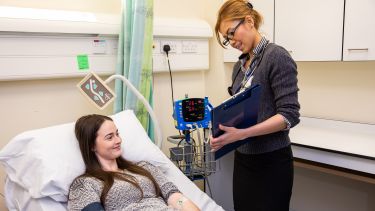 Off
The MBChB Medicine degree
Want to be a doctor? This five-year course gives you intensive training in the key aspects of the profession:
Admissions and application process
---
The MBChB Graduate Entry Medicine degree
This four-year course is for graduates with an appropriate life sciences degree who come from a widening participation background:
---
Choose Sheffield
Choose Sheffield and you'll get the perfect preparation for your medical career. You'll be part of a faculty where excellence and innovation are the norm. You'll be part of a university famed for its sense of community and practical, down-to-earth attitude – as well as world-class teaching and research.
Join the best, become the best
The Medical School was set up in 1828 and became part of the University of Sheffield in 1905. So we've been around long enough to know our stuff. In 2011 we were named Times Higher Education University of the Year. We're also placed in the UK's top ten universities and the world's top 100 by some of the most authoritative international rankings.
We're one of the best, but we're not a stuffy, elitist institution. The Medical School is a place where you'll be welcomed warmly. But we choose our students carefully – students who we think have what it takes to become the best doctors there are. And then we offer plenty of support along the way. Join us and you'll get personal and academic guidance from your personal tutor throughout your time here.
Enjoy a supportive community like no other
If there's one thing that our students tell us, it's that they truly appreciate the friendly and supportive community that we foster. It's important to us that you feel well supported during your studies, and have the opportunity to achieve your potential.
So we're a medical school that's small enough to care. You'll never be just a name on a spreadsheet. You'll be one of us. But you'll be part of something bigger – a university and a city buzzing with ideas and opportunities. A community where people care about each other, and never stop trying to make things better.
A superb department of medicine, in a world-class university, in a wonderful city. And that's just the start.
Straight to the frontline
Every medical school says they'll help you become a great clinician. But at Sheffield, we believe being a great clinician doesn't just mean knowing all the facts. It means speaking, listening and empathising with patients. So our students are schooled in the social and communicative aspects of medical training as well as the hard facts and the latest research and techniques.
At some universities, medical students are kept at arm's length from actual clinical practice until later on in their degree. Not at Sheffield. You'll be involved in real healthcare situations from an early stage.
We teach like this because we know you need this sort of experience to become the best that you can be. We won't hide you away from the frontline. We'll take you right there.
Learn from real patients
To better understand the needs and experiences of patients, we actively involve them in our research and teaching. Our MBChB Medicine course includes a high degree of patient contact, allowing you to reflect on your learning in the context of real people with real diseases in primary, secondary and tertiary care settings.
Developed in 2004, our Patients as Educators programme gives our students as much opportunity as possible to learn from real patients. The programme is internationally recognised as the largest of its kind, with more than 800 patients, simulated patients and volunteers involved.
Immersed in research
Learn your profession at Sheffield and you'll be based in a busy teaching hospital, and in a department and faculty immersed in stimulating research. Only recently we've seen innovations in cancer research and bacteriology and established SITraN – our cutting-edge centre for neuroscience. 
Work like this impacts tangibly on people's lives every day. It's one more reason why Sheffield medical graduates are among the best and wisest practitioners there are.
A beautiful environment
We've also invested £4.5million on a massive refurbishment to make your learning environment even better. The Medical School centres around a superb open-plan social learning hub, where you can meet other students or staff to discuss your work or just unwind over a coffee. We've rebuilt the Health Sciences Library too, giving you a beautiful new space perfectly fashioned for your study and research needs.
Our Clinical Skills Centre is based at the Northern General Hospital, one of the largest hospitals in the country. The centre contains mock clinical wards, resuscitation suites, simulated theatres and teaching rooms. 
The facilities have been developed to reflect what is currently used in the clinical workplace, and provide support for the teaching, learning and assessment of our students in a variety of clinical and simulated settings.