This page relates to applications for 2024 entry for both the MBChB Medicine (A100) degree and the MBChB Graduate Entry Medicine (A101) degree.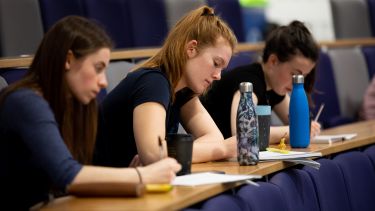 Off
It is supported by our A100 MBChB Admissions Policy and our A101 MBChB Admissions Policy. 
The current COVID-19 pandemic has the potential to impact on our admissions processes. For the advice on this for prospective students, see here.
On this page:
How to apply
Applications for Medicine are made through the University and Colleges Admissions Service, UCASApplying for a place to study Medicine is extremely competitive.
For our five-year Medicine MBChB programme (UCAS code A100) we currently have 273 places for Home students from the UK and 18 places available for International students.
For our four-year Graduate Entry Medicine MBChB programme (UCAS code A101) we have 15 places for Home students from widening participation backgrounds. Please note that we do not have international places for our A101 programme.
Applications should be made for either the standard five-year A100 MBChB course or the Graduate Entry four-year A101 MBChB Medicine course. Applicants who wish to be considered for both A100 and A101 will need to apply to both courses.
For entry in 2023, we received over 2,200 applications for a total of 306 places. Unfortunately, due to the volume of applications we receive, we are unable to consider any late applications. The UCAS application deadline is 16 October 2023.
I loved that Sheffield prioritises early patient contact. As early as my second week, I was talking to patients in a local GP surgery. Early in the course I was taught and was able to practice effective communication skills with patients which I believe has set me up for life. Originally from Dorset, one of the first things I noticed when moving up North was how friendly the people who live here really are. Sheffield is a very student-friendly and welcoming city. I was also drawn to Sheffield by the big indie music scene: with likes of the Arctic Monkeys and Pulp coming from the city it's hard to avoid. There are many music venues from The Leadmill to our very own Student's Union who put on some great gigs. As Sheffield is one of the greenest cities in the UK and there's always an opportunity to go walking in the Peak District or have a picnic in one of our many parks.

CECELIA MILLAR

MedSoc Admissions Liaison Officer, 3rd Year A100 MBChB Student
Entry requirements
What happens to your application?
Fees and bursaries
Other costs
Mature and International Students
Other relevant information
Frequently asked questions