To better understand the needs and experiences of patients, we actively involve them in our research and teaching. Our MBChB Medicine course includes a high degree of patient contact, allowing our students to reflect on their learning in the context of real people with real diseases in primary, secondary and tertiary care settings.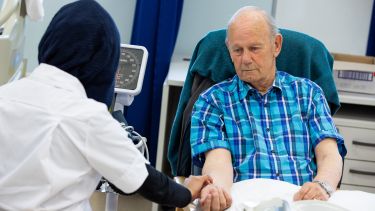 Developed in 2004 our Patients as Educators programme gives students as much opportunity as possible to learn from real patients.
The programme is internationally recognised as the largest of its kind, with more than 800 patients, simulated patients and volunteers involved in the training of undergraduate and postgraduate healthcare professionals.
Students studying Medicine, Nursing, Dentistry and Orthoptics are able to gain a deeper understanding of medical conditions by talking directly to a patient and performing relevant physical examinations with them.
The Patients as Educators Programme has grown from strength to strength thanks to the generosity of our patients in the local community.
Patient involvement
Patients help with teaching in a number of ways, including:
History Taking Sessions – during these sessions, patients speak to students about their condition and their experiences. This could include their journey through the health service and how their illness has affected them physically, socially and emotionally.
Basic Physical Examination – here students undertake a simple, physical examination based on the patient's condition whilst under the full supervision of a clinical tutor.
Clinical Assessment – patients also help whilst students are taking their exams. These exams can include a mixture of physical examinations and history taking.
Prospective Student Interviews – patients contribute to the interview process for admissions to the Medical School.
Home-Based History Taking Sessions – patients can receive home visits from BSc and Community Attachment Scheme students.
Ward Simulation Scenarios – patients take part in the Ward Intensive Simulated Experience which helps to prepare final-year students to become junior doctors.
We also welcome people who do not have any medical conditions. These volunteers can help the development of students' communication and consultation skills and can be involved in all of the teaching sessions above. The Patients as Educators are all volunteers who choose to give as much or as little of their time as they like.
Transport and hospitality
The majority of our patient involvement is based at Samuel Fox House, within the Northern General Hospital, Sheffield. Taxi transportation is provided at no cost to our volunteers and vehicles to suit individual patient needs can be arranged. Alternatively, if participants prefer to use their own transport, then these costs will be reimbursed. Drinks and biscuits are always available throughout your time with us as and also a buffet lunch and cakes during longer sessions.
Why get involved?
Many of our patients find that the programme is a great opportunity to meet new people and contribute directly to the training of the healthcare professionals of the future. This is what some of our volunteers have to say about the programme:
"I love being a PaE, over the years I have met lots of like-minded people with similar conditions, we get to have a good chat and share our experiences."
"After having had open heart surgery which saved my life, I get satisfaction in helping the students develop."
"This is my chance to put something back into our NHS."
How to get involved and general enquiries
If you are interested in joining the Patients as Educators Programme, or would like to contact a member of the Patients as Educators team, please get in touch on:
A global reputation
Sheffield is a research university with a global reputation for excellence. We're a member of the Russell Group: one of the 24 leading UK universities for research and teaching.