Learning with the Modern Languages Teaching Centre
This page contains answers to a number of frequently asked questions regarding general learning with the Modern Languages Teaching Centre.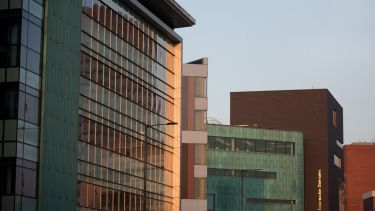 Despite restrictions due to the Covid-19 pandemic, the MLTC remains open and continues to offer its full range of language courses to all, undergraduate and postgraduate students, members of staff, and members of the public. Please read the FAQ updates below to find out how courses have been adapted to online delivery in the Autumn semester.
The MLTC is committed to raising the profile of Equality, Diversity and Inclusion (EDI) issues by supporting a Faculty culture which recognises that a diverse student and staff community is fundamental to improving our overall effectiveness. You can find more information here on how the University actively promotes equality and diversity. You can also read how the University is Decolonising the Curriculum. 
Information on the Faculty's preferred names and pronouns record can be found here.
---
For General Language courses up to and including the 'Advanced' level, teaching is delivered through a main two-hour class and a one-hour language lab. At higher levels, teaching is usually delivered through a single, three-hour class.
During the main class, new vocabulary and grammar topics are introduced and practised through mini-lectures and communicative activities involving the four skills (listening, speaking, reading and writing), either with the whole class or in pairs.
The lab hour consolidates and expands on what has been covered in class through supervised computer-based exercises or small-group activities, offering an opportunity for more interaction, individual support and feedback.
At all levels, but even more so at higher levels, teaching is predominantly delivered in the target language, and you will be using it yourself as much as possible when taking part in class activities.
In addition to the above contact hours, you will be given homework every week and expected to study the language and culture independently.
Autumn 2020 update:
Due to Covid-19 restrictions, all courses for the Autumn 2020 semester are delivered online and have been re-designed accordingly to ensure a similar, if not more flexible and enhanced, learning experience as traditional, face-to-face, on-campus courses:
Class contact hours are maintained but have been reduced to 1.5 hours per week and are delivered in video-conferencing mode through the University's virtual learning environment (Blackboard):

Class groups have been downsized from a maximum of 23 to 12 students in order to ensure maximum interaction and individualized feedback.
If, for any reason, you cannot attend the 'live' session one week, an anonymized recording of it (or a parallel one) will be available on Blackboard, along with all activities and corrections, for you to go through in your own time.

Making up for the loss in contact hours, specifically-designed online activities totalling up to 4 hours per week have been designed to enable you to expand on and consolidate the content of live sessions, either with peers taking the same course, or independently at your own pace. Homework set each week also clearly distinguishes between essential and suggested follow-up activities as well as preparation work for the next session.
Should you wish to meet individually with your tutor, you will still be able to do so through their weekly online consultation hour.
Please note that training and technical support for online learning are available prior to the start of the session and throughout the semester. Your tutor will also introduce these technologies progressively in the first lessons.
---
A maximum of 23 students per class group and 10-15 per lab group.
Autumn 2020 update: For online sessions, classes have been downsized to 12 students per group. There are no 'lab' sessions this semester as the 'smaller' classes will allow for more interaction and you can do online activities in your own time instead.
---
Regular attendance and participation in-class activities are essential where language learning is concerned as you may otherwise quickly fall behind. You should do your best to attend all sessions, including the lab hour when applicable.
If you fail to attend a class, you should:
inform your tutor
check on Blackboard what was covered during the class and what the homework is for the following session
if necessary, meet with your tutor during their consultation hour for any clarification
If you would like to receive an MLTC Certificate of Attendance or obtain HEAR recognition, you will be required to attend at least 70% of classes and labs. In addition, students who have received a Languages for All fee waiver or a Doctoral Development programme fee waiver, must attend at least 70% of classes and labs as per the terms and conditions of the fee waiver schemes.
If you are taking a module for credit, please note that your personal tutor and/or home department will be contacted if you miss 2 consecutive weeks or if your attendance is generally unsatisfactory. However, if you have valid reasons for missing some classes, you should apply for Self-Certification or Extenuating Circumstances to be taken in to account.
Autumn 2020 update: The above remains valid for online teaching. You should attend at least 70% of online classes. If you cannot attend a class, a recording of the session or of a parallel one will be made available on Blackboard soon afterwards the same week, but please note that watching the recording will not be regarded as a substitute for failing to attend the live session. 
---
When learning a foreign language, three contact hours a week are not enough to achieve significant progress. You also need to work by yourself and to develop your language skills according to your individual needs and interests. As a guide, a 10-credit module represents 100 hours of learning on the part of the student, which corresponds to a minimum of 4-5 weekly hours of independent study over the semester in addition to time spent in the classroom.
You will be given homework every week. You must complete your assignments in order to consolidate what you have learned and so that you can actively contribute to class activities the following week.
You are strongly encouraged to use all resources and opportunities available to you to consolidate areas in which you may feel weak (e.g. grammar, pronunciation) and to pursue your own interests in relation to the language and culture you are studying.
No-one can take classes forever, nor would it be advisable, and yet, learning a language, even one's own, is a never-ending process.
For this reason, all MLTC courses aim to help you develop independent learning skills through reflection on your needs and interests and development of individual learning strategies and methods. 
Autumn 2020 update: As contact hours have been reduced from 3 to 1.5 hours for most modules, you will be expected to undertake more independent work this semester than mentioned above. However, please rest assured that you will be guided through most of this work which will entail online activities and/or collaborative work whenever possible.
---
All MLTC courses have their own dedicated virtual learning environment (Blackboard) on which you will find a wealth of online resources to catch up with a missed class, to consolidate a lesson, or for independent learning:
course material (assessment information and samples, a week-by-week scheme of work summarizing activities done in class and homework, etc.)
grammar, vocabulary and pronunciation exercises
films with subtitles
skill-specific learning guides
useful websites or phone apps, etc.
In addition, you may need to purchase textbooks as listed in individual module descriptions:
'Set textbooks': you will need to have your own copy and bring it to class.
'Recommended textbooks': your course tutor will advise you as to the usefulness of purchasing these, which are usually available in the University library.
You are also welcome to join one of the language-specific student societies: Le Cercle Français, der Deutscher Verein, La Sociedad Hispánica, LusoSoc, The Italian Society.
When enrolling as a member of the public, you are issued with a University of Sheffield student card giving you access to all of the above facilities and many more: Libraries, Student Union clubs and activities, student support and discounts.
---
You will need to be competent in basic IT skills (using the Internet, reading and writing emails, word-processing). You will be expected to check your University emails regularly and to access the Internet on a weekly basis in order to use the virtual learning environment (Blackboard) dedicated to your course.
Any piece of written coursework that you submit will have to be word-processed. You may also be asked to learn how to record audio or video documents for assessment purposes and will receive guidance and training on how to do this. Developing your IT skills is part of the transferable skills you will learn while studying a language with the MLTC.
As a student of the university, you will receive a computing account. If you do not have a computer or access to the Internet at home, you will be able to use on-campus computing facilities.
You can register for digital learning induction sessions here which start on 14th September 2020.
---
If you have an impairment or condition that can make it difficult for you to undertake study-related tasks like sitting exams, reading, planning and writing assignments, attending classes and taking notes in them or delivering presentations, then you are likely to be eligible for disability support.
The University's Disability and Dyslexia Support Service (DDSS) can put a specifically tailored learning support plan in place for you. The pages on how to set up support for current students and for prospective students explain how you can get in touch to discuss what support would work for you.
More information on the services provided by the Disability and Dyslexia Support Service can be found on their webpages.
---
Collective and individual oral feedback is regularly provided on class-activities and homework. In addition, general language courses include two pieces of 'essential homework' (ie written work) to do per semester, which are marked using the MLTC examination criteria on a 100-point scale and returned with individual written feedback for you to monitor your progress.
If you feel you need more help, your tutor is also available during their weekly consultation hour to discuss any difficulty that you may have or to assist you in your learning.
---
Student representation: Your voice matters - in Week 3, you will be asked to elect a Student Representative who will arrange a consultation meeting with the rest of the class mid-way through the semester (ie Week 6 or 7) to discuss your satisfaction with the course. The proceedings of this meeting will be discussed with the tutor and any feedback or outstanding issue(s) will be brought to the attention of the departmental Teaching and Learning Committee. Student Representation is a HEAR recognized activity.
Further information: Student-staff consultation procedure, including guidelines and training resources for Student Representatives.
Course evaluation: At the end of the course, you will be asked to complete an anonymous School-wide questionnaire telling us how effective you found the module and how its content and teaching could be improved in future years.
---
For all administrative issues, please get in touch with the MLTC using the information on our contact us page.
For all academic issues, please contact your Module Tutor first, or alternatively, the Module Leader or the Language Coordinator. Their contact details, including their consultation hours during term times, can be found on our staff page.
A world-class university – a unique student experience
Sheffield is a research university with a global reputation for excellence. We're a member of the Russell Group: one of the 24 leading UK universities for research and teaching.