Department of Music receives award for Green Impact work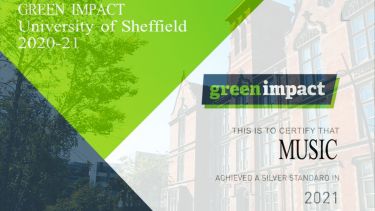 The Department of Music is proud to announce that recent efforts to improve sustainability across departmental activity has been recognised by the Students Organising for Sustainability United Kingdom (S0S).
Annual audits carried out by SOS assess university departments' contributions on improving sustainability within the workplace, which include energy saving, recycling, food waste and travel. 
Over the last year, Professor Renee Timmers has led a team of students and researchers to promote green and inclusive conferences in the UK and internationally.
This excellent work has resulted in the Department of Music receiving a silver award for Green Impact (2020-2021). 
We are delighted that our efforts to promote green and inclusive academic conferences have been rewarded with a silver green impact award. Our two projects have looked at the experience of online academic meetings due to covid and ways in which online meetings can be further developed to support inclusive as well as sustainable modes of conferencing in the future.

The results are already being applied in two online conferences held this year - StageStruck! and ICMPC16-ESCOM11 which host attendees from across the world. We have received broad support for our initiatives to be more considerate of environmental and EDI issues when organising conferences and meetings, as evidenced by responses to our survey and to our pledge to do so. 

Professor Renee Timmers

Green Impact Lead, Department of Music 
To outline priorities and support change for future academic events, a wealth of resources and information have been published on the Department Sustainability website, which was launched this year. 
The website includes tips on how to save energy in the workplace, and shares the best transport routes in Sheffield to reduce carbon footprint when travelling to campus. 
Learn more about how the Department of Music is committed to Green Impact:
Department of Music Sustainability Website
This work supports the University of Sheffield's five-year sustainability strategy which sets out our approach to sustainability in Sheffield. It aligns the University with the international scientific consensus and approach embodied by the UN's Sustainable Development Goals and the Paris Agreement.  
Key commitments of this strategy include: 
A net-zero campus by 2030 and net-zero across all activities by 2038 
Using our research expertise to tackle twenty-first century sustainability challenges 
Embedding Education for Sustainable Development into all taught courses in five years 
100% renewable procured electricity on campus 
Tough action on high-carbon travel
By drawing on our strengths as an institution, we aim to become one of the most sustainable research-intensive universities in the UK. 
We're committed to not only finding solutions to global problems, but also to translating our research into real-world solutions that make our campus and city more sustainable.
Already, we have cut our direct carbon emissions significantly, we have responsible waste and recycling measures in place and are creating diverse and balanced habitats across campus.
Find out more about Sustainability at Sheffield. 
Flagship institutes
The University's four flagship institutes bring together our key strengths to tackle global issues, turning interdisciplinary and translational research into real-world solutions.