Music psychology course celebrates 25 years with anniversary conference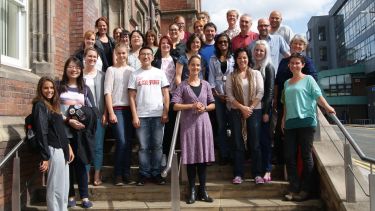 The Department of Music was first to pioneer postgraduate distance learning music courses in the UK. The unique format allows students to complete a diverse set of modules online, at home, at a time that suits them.
The Distance Learning MA in Music Psychology at the University of Sheffield has been running for 25 years, during which time many international and home students have successfully completed the programme and gone onto successful careers in the industry.
The current Course Director Michael Bonshor (along with several other previous course tutors) was among the earliest alumni from the distance learning MA programme.
It was very exciting to realise that the course had been running for so long and that it has played such a strong role in the wider development of music psychology research and education.

Dr Michael Bonshor

Course director for MA in Music Psychology in Education, Performance and Wellbeing. 
Anniversary Celebration
To celebrate, the Department of Music are delighted to announce that they will be hosting a two-day event to celebrate the distance learning course's success, uniqueness, and longevity.
Further details and expression of interestThe Silver Anniversary celebration will take place on Friday 21st and Saturday 22nd April, with opportunities for online and onsite participation.
The event will be of interest to anyone who works in Music and those who would like to find out more about psychological research in performance, education and wellbeing. 
Conference programme
On Saturday 22nd April 2023, the Music Department will be hosting a mini-conference, which will take place from 9 am to 1pm. 
This part of the event will be in a hybrid format, so that delegates can take part onsite (in Sheffield) or online.
Proposals for spoken presentations or posters will be welcomed by the conference organisers, who are interested in hearing about:
Research projects in music psychology
The applications of music psychology in education, performance and wellbeing
Professional work which has benefited from insights into music psychology
Educational perspectives on distance learning in music psychology
Alumni Reunion 
There will also be an onsite event on Friday 21st April, from 12 noon to 6 pm. This event will include a reunion of past and present students and teaching staff plus additional guests.
There will be the opportunity to participate in interactive workshops on the applications of Music Psychology, specially in the areas of wellbeing and education.  
If you have any questions about the event and its organisation, please contact Michael Bonshor: m.bonshor@sheffield.ac.uk
Alumni have continued their journey as music psychology researchers; many have applied their research in practical settings in music education, performance and wellbeing; and others have used their learning to advance their careers in many diverse ways.
Events at the University
Browse upcoming public lectures, exhibitions, family events, concerts, shows and festivals across the University.