2025 start
August
Music Psychology in Education, Performance and Wellbeing
Department of Music, Faculty of Arts and Humanities

Learn about psychological research on musical experiences on this distance-learning course, including learning, teaching, practicing, performing, listening and using music to enhance well-being.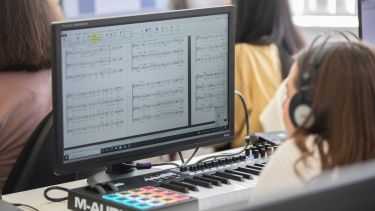 Course description
Drawing students from all over the world, this course focuses on the application of psychological research to musical experiences and professional work. The distance learning programme attracts graduate musicians who work in music education, performance or that use music in therapeutic ways.
You'll receive training in evaluating and using the qualitative and quantitative research methods used by psychologists, together with their associated conceptual frameworks. You'll gain a theoretical understanding of some of the major psychological models and their practical applications, which you could then use in educational, performance or therapeutic settings. 
The first year is dedicated to three broad areas of research: Musical Development, Psychology of Performance and Researching Music in Everyday Life and Wellbeing. The second year offers training in Psychological Research Methods. You'll also complete a dissertation in which you'll use what you've learnt to investigate your chosen research question.
During the course, you'll also benefit from research informed online materials and from the University's extensive collection of electronic books and journals in music psychology and education. You'll also have access to online resources that will help you to improve your academic skills, such as carrying out literature searches and reviews or how to develop your academic writing and critical thinking.
In the first year, you'll be assigned a personal tutor to support your modular learning. In the second year, you'll have a dissertation supervisor to guide you through your research project and dissertation writing.
Modules
First year:
Musical Development

To develop an understanding of the psychological and biological processes that affect musical development in the first fourteen years of life. To apply this understanding to music teaching and learning contexts, evaluating existing research and developmental themes.

30 credits

Psychology of Performance

To develop an understanding of the psychological processes involved in playing music, exploring the existing research literature and methodology. To explore how this understanding can be applied to the experience of listening to and performing music.

30 credits

Researching Music in Everyday Life and Wellbeing

This module focuses on music in four types of everyday life setting: commerce and retail, leisure, education, and therapeutic uses of music. Subsequent weeks of this module use psychological, sociological, musicological and educational theory and research to provide insight into how and why music occupies the place it does in contemporary industrialised societies. Before examining each of these areas in more detail, the following section will provide a general introduction to the role of music in everyday life.

30 credits
Second year:
Psychological Research Methods

The aim of this module is for students to consider in-depth a chosen topic within Psychology of Music and the research methods that are used to develop knowledge and understanding in that area. Students will work with a peer to develop a review of research literature, producing a joint literature review and a joint methods review. This is complemented by a written individual reflection on the skills developed within the module, including a reflection on working as part of a team. The work is supported through lectures and online material on quantitative and qualitative research techniques, and through seminars, exercises and online material that help produce a literature and methods review.

30 credits

Dissertation in Music Psychology

This module allows students to investigate a research question in music education, which may be empirical or theoretical. Students are required to submit a dissertation of around 16,000 words, which shows an awareness of established literature in the field, of appropriate data collection and analysis, and of interpretation of results or theories. Supporting materials and the opportunity for peer discussion will be provided through WebCT, along with individual guidance from a member of the course staff.

60 credits
The content of our courses is reviewed annually to make sure it's up-to-date and relevant. Individual modules are occasionally updated or withdrawn. This is in response to discoveries through our world-leading research; funding changes; professional accreditation requirements; student or employer feedback; outcomes of reviews; and variations in staff or student numbers. In the event of any change we'll consult and inform students in good time and take reasonable steps to minimise disruption.
Duration
2 years part-time by distance learning
Teaching
Doing a distance learning course means that most of the teaching takes place through the University online portals. You'll have access to the modular course materials, library services, class discussion boards and other online resources.
The ability to work independently is important for an online course and the modules, assignments and tutorials are designed to help you to develop the necessary skills.
Throughout the course, you'll be supported by your tutor via email and online meetings. You'll also have opportunities for tuition by members of the University's Psychology of Music team and peer interaction during the annual summer school.
Learn more about your supervisors

Changes to the teaching staff on the programme are possible, but are likely to include:

Annual online summer schools
The annual summer schools are an important part of this course
By attending them, you'll have opportunities to interact with your tutors and peers, and to participate in lectures on the main course topics, academic skills and research methods.
The summer schools include introductory sessions on modular material, using the university's online systems, developing your study skills, exploring the literature, and evaluating and using research methods.
There are also opportunities to participate in interactive seminars, discussion groups and tutorials.
Attending the summer school is an intensive experience as we cover a lot of material, but feedback from our distance learners has shown that they enjoy the chance to fully immerse themselves in the course.
Due to the restrictions associated with the pandemic, the summer school has been entirely online in recent years. However, the format of the summer school is under regular review, and a return to an onsite format will be considered at a future date.
Assessment
Assessment is through a variety of forms such as reports and essays. They are usually individual assessments, even if they concern the processes and outcomes of group work.
In the second year, you'll carry out an original research project on which you will base your written dissertation.
Department
Department of Music
Our department ethos combines high achievement with a sense of community and a shared passion for music. Our internationally recognised research informs our high-quality teaching and our student experience is collaborative, supportive and inspiring.
Sheffield is celebrated as one of the UK's leading music cities, with dozens of major venues from the City Hall and Crucible to Yellow Arch Studios and the Foundry, covering all music genres. This brings with it a host of opportunities for our students to get involved in professional music-making of the highest quality.
We work closely with the University's Concerts Series and oversee ensembles such as the Symphony and Chamber Orchestras, the Chamber Choir and the Folk Group, so our MA students have the opportunity to perform and develop ensemble skills with their peers.
Student profiles
It took a lot of courage in my mid-thirties to apply for the MA programme. Studying music psychology allowed me to grow in confidence , both professionally and personally. I feel empowered to include new initiatives in my own music lessons.

The quality of the department, the depth and breadth of the course materials, the balance between gaining a broad view of the field then honing in on your chosen area of study for the dissertation project: all these elements are nicely balanced and well presented by an active and passionate department

Wendy McMahon
Entry requirements
2:1 undergraduate degree. If your undergraduate degree is not in music, you'll need to provide evidence of substantial engagement with music.
We also recognise the value of experience, and may accept applications from people who have not been awarded a 2:1 and have been in professional practice, or who bring other qualifications or relevant academic experience to their studies.
Overall IELTS score of 6.5 with a minimum of 6.0 in each component, or equivalent.
Fees and funding
University funding and scholarships opportunities are available each year. Please check the department funding webpages for music specific scholarships. Department scholarships details are released in the January prior to the start of your course.
Apply
Applications for this course open in September 2024.
Any supervisors and research areas listed are indicative and may change before the start of the course.
Recognition of professional qualifications: from 1 January 2021, in order to have any UK professional qualifications recognised for work in an EU country across a number of regulated and other professions you need to apply to the host country for recognition. Read information from the UK government and the EU Regulated Professions Database.