Yorkshire schools experience Steinway extravaganza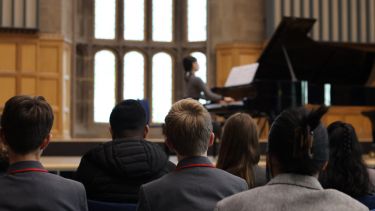 Inspiring the next generation of musicians 
'Please can I have a play?' - This was the most popular request heard on our recent schools experience day.
The event, which took place on Friday 18th November, was part of the one year anniversary celebration to mark the University of Sheffield's All-Steinway School launch. 
Held within the grand hall of Firth Court, the Department of Music planned taster activities that gave valuable insight on what it's like to be a professional musician in training.
This was the first event of its kind in the country and provided pianists from across the region to experience a university style masterclass with the highly regarded professional pianist and Steinway artist, Martin Roscoe. 
The pupils really enjoyed themselves and loved being able to see some advanced performances and what Sheffield Music Department have to offer. It has sparked some really great conversations.

Music Teacher 

Mercia School 
Five schools from across Yorkshire participated in the day, including High Storrs School, Mercia School, Pocklington School, Silverdale School and Thomas Rotherham College.
The vibrant afternoon offered an insight into the inner workings of a Steinway piano, a tour of the campus and studio facilities, and most importantly, a practice on a Steinway grand piano!
The pupils really enjoyed themselves and relished some advanced performances coupled with insights into what the University of Sheffield Music Department has to offer the undergraduate learner. 
The event obviously stimulated young minds and we hope this event can be a regular fixture in future years.
Arts subjects such as music have been increasingly under threat of cancellation from the high school curriculum over recent years, so it was a pleasure for the Department of Music to support pupils to explore their passion for music performance for free - one of the many benefits of gaining the world-class music accreditation. 
The Arts and Humanities Schools Outreach Team provide essential engagement opportunities for pupils to access and learn about the higher education environment.
Schools from the Yorkshire region are encouraged to explore the activities available for their musicians and to get in touch. The faculty look towards releasing a new programme of events for 2023.
Explore the University
Discover why Sheffield is the right choice for you at one of our open days or events.