The Department of Music is keen to share experiences of studying music at a higher education level. We provide resources for schools, teachers and music practitioners alongside running a number of events for schools throughout the academic year. Please get in touch if we could be of benefit to you.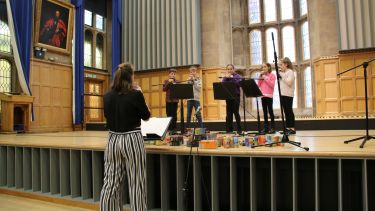 Music Education Resources 
Admissions tutor newsletter - Autumn 2021
Article access - What is music education for? Understanding and fostering routes into lifelong musical engagement, Professor Stephanie Pitts.
Music anxiety session - Dr Michael Bonshor - Director of Music psychology in education, performance and wellbeing.
Book discount - Sound Teaching: A Research-Informed Approach to Inspiring Confidence, Skill, and Enjoyment in Music Performance, Professor Renee Timmers and Stephanie Pitts. 
Schools Outreach Team 
Our extensive schools' outreach programme is designed to inspire pupils and create engaging relationships between the University and schools and colleges.
They offer a range of exciting opportunities for groups and individuals from 11 years of age upwards. 
Our innovative programme includes taster activities, academics/students in the classroom, study days, conferences for teachers, classroom resources, practical hands-on sessions and student mentors. 
MINC (Music in the City)
Our student-led volunteering organisation, Music in the City, creates fantastic opportunities leading music projects and workshops in local schools. Music in the City work closely with The Sheffield Music Hub, Music for Youth, create Sheffield and TUOS Arts and Humanities outreach team. View more resources on their website and YouTube channel.
Open Days
Our undergraduate open days give you the chance to discover more about our world-class university. Take tours of the campus, the Students' Union and accommodation. Listen to talks about studying abroad. Academic departments hold talks throughout the day. 
June - July - Prospective student open days for next year entry (online and onsite).
September - October - Prospective student open days for next year entry (online and onsite).
February - April - Applicant open days for offer holders for September entry (online and onsite).
Music Education Training 
Drawing students from all over the world, our MA course focuses on the application of psychological research to musical experiences and professions, and attracts graduate musicians who work in the fields of music education, performance and therapy, or teaching. We provide students with training in the research methods used by psychologists, together with the conceptual framework within which these methods can help to inform and explore musical expertise and understanding.
The MA programme provides a part-time distance learning option that you can complete online, at home, when it suits you.
Designed and delivered in collaboration with the Sheffield Music Hub - one of the UK's top music education providers - we offer a unique undergraduate programme for a career in music education. This four-year course includes a year-long industry placement in Year 2. 
Entry qualifications 
The Department of Music accepts a wide range of qualifications for their undergraduate programmes. This is to ensure all talented individuals have access to music at a higher education level, even if they have not been able to study music at school.
Full entry requirements:
Why study music 
Motivation for music
 A Music degree means being surrounded by other musicians with similar musical passions, and just as importantly, different ones: there are many ways to be a music student, and at Sheffield we help students become the musician they want to be.
Motivation beyond music
Alongside the enjoyment that comes with all the performing and musical activity of a Music degree, we help students to develop critical thinking and research skills, so that they can articulate more clearly the value of music in their lives and other people's.
Being able to talk and write about why music matters is more important than ever, in a climate where science and technology (STEM) subjects seem to dominate the political landscape. We equip our students to weigh up evidence, to communicate clearly, to show empathy and creativity, and to understand the big picture. The world needs music graduates!
Careers and employability
As well as being a subject that you can be truly passionate about, a degree in music offers a strong foundation for a variety of different careers after graduation. The musical excellence you will attain, combined with valuable transferable skills - such as time management, critical thinking and interpersonal communication - will make you highly valued by employers. You will learn to take a systematic perspective of music, critically analyse texts and work as a team. 
Our graduates work with prestigious orchestras and music institutions within the UK and globally, in roles ranging from performing and conducting, to administration and education.
Music Careers and Employability 
Contact
| | | |
| --- | --- | --- |
| Schools Outreach Support Officer - Faculty of Arts and Humanities | Linda Billam  | Sign up to the Schools Network |
| Marketing and Recruitment Officer - Department of Music  | Victoria Berry  | v.berry@sheffield.ac.uk |
| Undergraduate Admissions Tutor -  Department of Music  | Professor Stephanie Pitts  | s.e.pitts@sheffield.ac.uk |
| Postgraduate Admissions Tutor -  Department of Music  | Professor Adrian Moore  | a.j.moore@sheffield.ac.uk |
A world-class university – a unique student experience
Sheffield is a research university with a global reputation for excellence. We're a member of the Russell Group: one of the 24 leading UK universities for research and teaching.