Career pathways and work experience
The musical excellence and academic aptitude you develop on your course will make you highly valued by employers, whatever your chosen career path after university.
Careers in music
From the beginning of your course you are encouraged to think seriously about your future after graduation. By the middle of level two many students are teaching and performing locally, forging valuable contacts in the region. 
Our graduates work with prestigious orchestras and music institutions within the UK and globally, in roles ranging from performing and conducting, to administration and education. Sheffield music graduates have also forged successful careers in other fields, some examples include:
• Artist management
• Audio programming
• Composition
• Concerts coordination
• Instrument repair
• Marketing and communications
• Music research
• Music promotion
• Music therapy
• Orchestral management
• Professional performance
• Publishing
• Sound engineering
• Teaching
Within the field of music, our graduates have worked for the Royal College of Music, the London Symphony Orchestra, the Hong Kong Philharmonic Society, the Association of British Orchestras and the Royal Academy of Music.
What can I do with a music degree? 
Work experience
As one of the most adaptable music degrees in the UK, our BMus Music course provides plenty of opportunities to gain hands-on experience. Placements are a fantastic opportunity to increase your skills, gain an insight into the career that interests you and make contacts for the future.
The Musical Industries pathway contains the Music Placements module, which allows you to undertake work-related learning in a professional music setting. You will negotiate your own placement with the support of tutors, and will also have access to a directory of local and national organisations that you can approach.
You could also choose to do a placement over the summer, or complete one over the course of a year. If you take on a year-long industry placement, you can transfer to the Degree with Employment Experience.
Find out more about placements on the University Careers Service pages.
Other career pathways
As well as being a subject that you can be truly passionate about, a degree in music offers a strong foundation for a variety of different careers after graduation. The musical excellence you will attain, combined with valuable transferable skills - such as time management, critical thinking and interpersonal communication - will make you highly valued by employers. You will learn to take a systematic perspective of music, critically analyse texts and work as a team. 
You will also have the chance to explore the science of sound and computer music production, honing your IT skills with the latest technology.
These skills have seen our students flourish in a range of careers, and not just in music. 
Careers support during your studies
The University Careers Service offers extensive help to all students and provides a wide ranging programme of events each semester. This support is available up to three years after graduation.
The Careers Service also hosts a number of seminars specifically for music students, where there is the opportunity for a one-to-one interview with a Careers Service member of staff.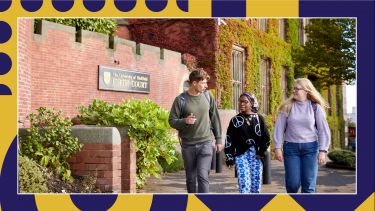 Results and Clearing 2022
Join a Russell Group University with the best Students' Union in the UK. Our clearing vacancies are now open. Apply online or call us on +44 114 212 9900.