As a part-time student, you will study for your BMus over a period of six years, with each level taking two years to complete. You will study alongside our full-time students and be able to choose from our full range of modules.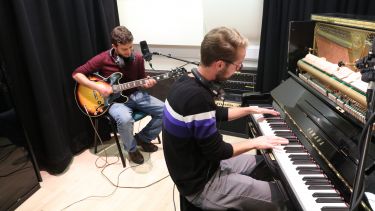 Course details
Entry requirements: AAB at A Level, or equivalent
Duration: 6 years
Programme code: MUSU12
---
How to apply
To study this course part-time, you will need to apply through our online application form.
Course description
Our BMus is one of the most flexible and diverse music degrees in the UK. Our curriculum and expertise span seven different areas: performance, composition, musicology, ethnomusicology, music psychology, musical industries, and music technology.
We offer academic and practical study in most music genres, including classical, pop, jazz, folk and world music.
Our teaching ranges from academic to hands-on. You'll learn through a combination of lectures, seminars, interactive classes and tutorials, and you'll be expected to carry out independent study, assignments and instrument practice.
A few of our modules include formal exams but the majority of your assessment is through coursework (for example essays, journals, compositions, recordings) and assessed performances.
We offer an impressive array of modules, giving you the freedom to follow your own interests and develop your skills as a musician and music researcher. With the support of an academic supervisor, in your final year you will write an original research-led dissertation, give a full-length recital or create a composition portfolio.
Instrumental lessons are available to all students in the first year of our degree and continue throughout for those who take assessed performance. You can gain performance experience as part of our orchestras, ensembles, bands and choirs, through a series of more than 100 concerts a year.
In your third year, you could take a module that many other universities don't offer, producing a Special Project such as staging an exhibition or performance. You'll be supported in group sessions and regular tutorials, focusing on your passion and creating something you can be proud of.
Modules
Instead of studying 120 credits a year for three years, part-time students spread their credits over a period of five or six years. The part time degree includes the same content as the full time programme. The part-time degree requires students to take 60 credits per year. The first year includes 40 credits of compulsory modules, followed by 30 credits in the second year. 
For detailed information on the modules available at all levels of this course, please see our online prospectus page for BMus Music.
Entry requirements
AAB at A Level, or equivalent. For a full list of qualifications we accept, please see our online prospectus page for BMus Music.
If English is not your first language, you must demonstrate that your English is good enough for you to successfully complete your course. For this course we require: GCSE English Language at grade C/4; IELTS grade of 6.5 with a minimum of 6.0 in each component; or an alternative acceptable English language qualification.
Alternative English language qualifications. 
Fees and funding
For information about tuition fees and other financial information, visit our undergraduate fees and funding webpages.
Explore the University
Discover what sets Sheffield apart at our next on-campus open day.