OpenSwarm: New Horizon Europe project starting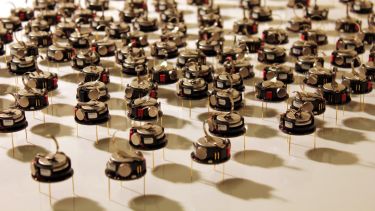 OpenSwarm is a new Horizon Europe project studying the Orchestration and Programming of ENergy-aware and collaborative Swarms With AI-powered Reliable Methods. It is an exciting collaboration that brings together internationally leading partners from academia and industry.
Energy-aware swarm programming will be demonstrated on our 1,000-robot platform in Sheffield, and in the context of real-world use cases in application domains including cities & communities, environmental, industrial & health, and mobility.
We are recruiting two post-doctoral researchers (Research Associates) to work on OpenSwarm. The first post (to be advertised in December) focuses on energy-aware swarm programming (expected start date early 2023). A further Research Associate is anticipated to join the team around September 2023.
The research will contribute to our mission of developing robotics and artificial intelligence technologies that play a major role in addressing future societal needs.
For any questions, email Dr Roderich Gross (r.gross@sheffield.ac.uk).
Project updates
Natural Robotics Lab: investigating robotic systems inspired by nature, and robotic models of natural systems.
Flagship institutes
The University's four flagship institutes bring together our key strengths to tackle global issues, turning interdisciplinary and translational research into real-world solutions.