Doctors-in-training are reconnecting with the Sheffield community through social accountability project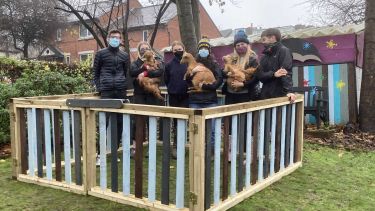 Medical students at the University of Sheffield are helping dementia patients unearth old memories and youngsters to improve their wellbeing in a pioneering initiative that puts social accountability at the heart of their health practice.
Unique to Sheffield, the six-week Social Accountability project gives medical students the opportunity to volunteer in local charities and organisations in local communities across the South Yorkshire region - giving support and working with people who need their help the
most.
The Social Accountability placements have led to students swapping learning in lecture theatres or hospital wards to helping down on the farm, in local schools or boxing gyms.
Lucy Dean, 21, a third year-medical student, spent her time at Heeley City Farm supporting young people and those who have dementia.
"I didn't really know what to expect - I thought it'd be useful and I'd learn about animal therapy, but I didn't know that I would take away as much as I did from the placement," she said.
"I definitely think that in the future I'm going to remember the process of social prescribing, the non-medical treatment of health education."
Springing back from its origins of being built on derelict land in 1981, today the farm is dedicated to working with young people, adults with learning disabilities and the local groups to promote regeneration, environmental education, energy efficiency and overall health.
Through their 'Farming Comes to You' initiative, people with dementia can spend time with the farm inhabitants as part of the Animal Assisted Therapy.
"There was one lady living with dementia who was quite vulnerable. After doing a full risk assessment, she was able to come one afternoon and sit outside and be around animals for her mental health," recalled Lucy. 
"I remember her being a bit withdrawn and quiet, but the minute she sat down and a guinea pig was placed on her lap and the goats were let out to roam around her, she just came to life.
"She started chatting to me freely about her life and singing to me all these songs that she knew from her childhood, and it really just showed how calming the effect of animals can be on people. No drug could have helped her feel that happy with herself."
Along with two other students, Lucy and the team managed to create special dementia-friendly cards that were sent out as part of Christmas hamper boxes to provide locals with a glimpse into the farm's animal family amid the lockdown restrictions.
Lucy said: "As a future clinician, I have to understand that people like to communicate differently and I have to be open to that and help them as much as possible with it.
"So, we decided to make these cards to be visually appropriate for people that may have reduced eyesight.People with dementia need something tactile that they can hold because using other senses can help them communicate without relying on just their speech and
vision.
"Some of them haven't been able to see the animals for months even if they used to come in every week, so seeing a picture of their favourite goat, chicken, snake or chinchilla can help them cope. I was really proud of those because we found an effective way around the
impairment to communicate with others."
Lee Pearse, Senior Manager at Heeley City Farm and Dementia Manager, said: "The third year medical students who have been part of the Social Accountability placements on the farm for the past six years have researched, developed and delivered varying projects that have had a huge impact on Heeley City Farm, its staff, young people and volunteers.
It is vitally important that students are made aware of what they can offer to society through their own lived experiences, studies and knowledge when given the opportunity to experience the frontline in our communities.

Lee Pearse

Senior Manager at Heeley City Farm and Dementia Manager
"Students should have the widest opportunity to engage in these community placements to enable them to see what the everyday community is and how it operates - this placement does that."
Medical student Katherine Mills, 21, spent her time working alongside youngsters at Endeavour, an educational organisation that supports young people to gain qualifications and build self-esteem through its specially designed intervention programme.
By mixing education with work insight and outdoor activities, the organisation commits itself to promoting personal development and employability by individually catering to children in need.
Katherine said: "I think the placement helped me to become more patient, open-minded and watchful as a person and allowed me to build skills in terms of interacting with children which I haven't had before.
"I learnt how to engage with children and how to simplify more complex ideas into simpler ones which will both be beneficial for my future jobs."
By abseiling and hiking in the Peaks District and helping children cook everything from brownies to homemade soup, it gave Katherine a chance to create memories while making a positive impact.
Patrick Callingham, Head of Education at Endeavour, said: "Over the years the medical students have been working with our learners on a whole variety of important issues such as sexual health, wellbeing, healthy eating and exercise and how to access medical services.
"The benefits are two fold - our learners get some valuable and important life lessons while the medical students get an insight into working with young people from different backgrounds in an area of the community they are probably not aware of.
"The initiative is something that has a lasting impact on both the medical students and our learners and we hope it continues for a really long time.
"Since the first students joined us we have had a learner go on to study medical science at university and a number of learners go on to higher education - I am sure the social accountability placement definitely had a part to play in that."
Explore the University
Discover what sets Sheffield apart at our next on-campus open day.