Experts unite to help cities solve unprecedented climate challenges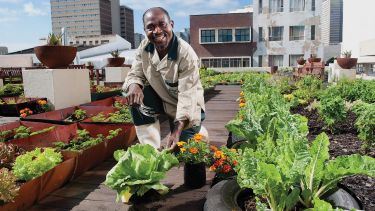 An international team of researchers has set recommendations for making cities more resilient to climate change
Record climate extremes are reducing urban liveability, compounding social inequality, and threatening infrastructure
Scientists say the best approach is to combine using technological, nature-based and social solutions
Combining technological, nature-based and social solutions is the best way to make heavily populated cities more resilient to climate change, say researchers.
An international team of researchers, including scientists from the University of Sheffield, has found that the best way to make cities more resilient to the effects of climate change is by combining different types of solutions - technological (e.g. using buildings materials that reflect rather absorb heat), nature based (e.g. use of trees and other vegetation to cool areas) and social solutions (e.g. working with local communities to adapt their behaviour).
Individually, these solutions are unable to address the complexity and scale of climate change adaptation in cities but taking approaches which combine these solutions is the best way to address socio-ecological issues in heavily populated cities as well as increase their resilience to the climate crisis. .
Dr Karl Evans, co-author of the paper from the University of Sheffield, said: "Current climate change models predict that the mean maximum temperature in cities globally will continue to increase over the next few decades.
"The effects of climate change are reducing urban liveability and with more than half the world's population living in cities, we need to find solutions to make them more resilient to the climate crisis.
"Using integrated solutions that often incorporate nature based solutions simultaneously help to tackle society's two greatest challenges – climate change and biodiversity loss."
Dr Brenda Lin, lead author of the research from the Commonwealth Scientific and Industrial Research Organisation (CSIRO), said: "We need people to act now, 2070 is less than 50 years away so many people will experience the increase of temperature in our cities in their own lifetime.
"Integrated adaptation solutions are like a great recipe. The individual ingredients are important, but the combination of ingredients and how they are put together are really important to the success of the dish."
Not all solutions will work the same in every city. Depending on the politics, economics, climate, and environment, different sets of solutions will work better than others.
The team looked at three case studies, in Germany, South Africa and Singapore respectively, where different approaches to climate resilience in cities were used.
While initiatives were successful in their own right, they did not necessarily translate to another city in another country. Hence the need for integrated solutions also taking into account an individual city's barriers and options. This ensures the focus is not too narrow with specific or one- dimensional outcomes.
The research, published in The Lancet Planetary Health, has provided a road map to identify how to successfully implement these integrated climate solutions and highlights how disadvantaged countries are central to future urban development and must be prioritised.
---
Additional information 
Integrating solutions to adapt cities for climate change - full paper
Contact
For more information please contact: 
Flagship institutes
The University's four flagship institutes bring together our key strengths to tackle global issues, turning interdisciplinary and translational research into real-world solutions.