Levelling Up White Paper: What the experts say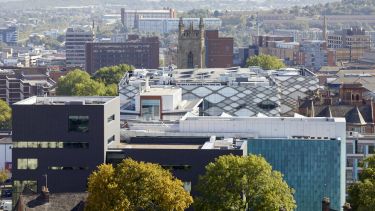 Michael Gove unveiled the government's flagship Levelling Up White Paper today (Wednesday 2 February 2022). Academics and experts from across the University of Sheffield have given their views:
The publication today is certainly intent on grappling with the 'big' issues of regional inequalities across our society. It is welcome that a new independent advisory board includes regional figures familiar with the north, such as Sir Paul Collier, who will track the progress of the White Paper's missions, of which clear legislative goals and annual reports for devolved authorities will assist in accounting for how society gets value for money from the funding made available. The focus on a more systemic, joined-up government is crucial for this, however the paper does not set out how this cross-governmental coordination will happen.

"Considering the amount of funding available, the White Paper is certainly not a 'revolution in devolution' which would include community-led policy making and not the top-down approaches listed, but it is pleasing to see mission such commitments as the national youth guarantee, as the reality is that 2030 is not that far away and 'levelling-up' is not a short term endeavour. It has to be sustained financially and more generational in nature for it to make real and lasting change."

Professor Matthew Flinders

Professor of Politics at the University of Sheffield's Department of Politics and Sir Bernard Crick Centre
---
Whilst the increased provision of affordable social housing is welcomed and well overdue, the government is already struggling to achieve its 2019 manifesto pledge of building "300,000 homes a year by the mid 2020s". Housing provision is currently around 200,000 new homes a year so it is unclear what will be achieved by increasing targets whilst existing ones have not been met. 
 
"We also know that the average cost of a new build home is higher than for existing housing stock, and that the rate at which prices are increasing is higher for new builds too. It will therefore be interesting to see how the government intends to provide new housing that is genuinely affordable, with a shift away from traditional types of homes likely to be required.
 
"The generation of large numbers of housing also increases the need to regulate embodied carbon in buildings, a bill for which is being introduced to Parliament today (2 February 2022). This focuses on reducing the emissions associated with the construction of new buildings. 
 
"Increased housing provision should only be delivered alongside a tightening of energy efficiency regulations in order to prevent the need for costly retrofit further down the line. These could also be integrated as part of the 'Decent Homes Standard' announced as part of the Levelling Up White Paper. This would ensure privately rented homes are of a minimum environmental standard; combatting the climate crisis whilst reducing cost and increasing comfort for tenants."

Charles Gillott

PhD student at the Grantham Centre for Sustainable Futures at the University of Sheffield
---
 Whilst it's promising to see the government announce its intention to increase support for Sheffield through 'Kings Cross-style' regeneration projects, they must be planned and delivered in collaboration with local partners and genuinely improve the city for all.  More broadly, we need projects to deliver tangible benefits for South Yorkshire, especially after they have been so badly hit by austerity and loss of funding compared to London and the South East.

"The increased support for Sheffield is welcome, but support is needed for other areas in South Yorkshire. Places like Doncaster and Rotherham, together with the rest of South Yorkshire, are some of the most left behind places in the UK in terms of economic investment and development, so it's essential for the government to increase its support for these areas too, in order to level up.

"The Covid-19 pandemic has also had a devastating impact on the UK's arts, culture and heritage sector, so it's welcome to see that the government is intending to increase its cultural spending outside of London. With restrictions now easing across the UK, it's important for Arts Council England funding to be spent on helping the sector recover and grow in the regions that have been hurt the most."

Professor Malcolm Tait

Professor of Planning at the University of Sheffield's Department of Urban Studies and Planning
The Government's mission to narrow the gap in HLE between local areas by 2030 is admirable. However, the evidence is clear that to have any chance of success, wide-scale policies that appropriately target the social determinants of health are required. Improving the living and working conditions for the most disadvantaged sections of the population must be a priority. History tells us that well-intended policies not sufficiently targeted according to need often end up increasing inequalities because those who are already privileged are most able to benefit from them.


"While the Government's 12 missions to level up ostensibly target the social determinants of health, the focus is very much on local and regional inequalities. There are however huge inequalities within areas. Sheffield is a prime example, with a gap in HLE of around two decades between the best and worst off. Alongside a consideration of place-based factors must be a focus on the main fault lines of inequality in the UK – according to socioeconomic factors, gender, ethnicity and others – that are deeply rooted in structural and systematic inequities and systems of discrimination.
 
"The evidence clearly shows that targeted policy action on the social determinants of health, including welfare state expansion reduces health inequalities.  It also clearly shows us that austerity increases inequalities.  Therefore the mission only has a chance of success if progressive macro policies are implemented, sufficiently targeted to those who face multiple intersecting disadvantages.
 
"Finally, a commitment to reduce the HLE gap should be seen as a long-term serious investment in prevention.  This investment is almost certain to pay off, though the return on investment may not be seen for many years, well beyond that of the typical lifespan of the government and beyond the 2030 target."
 

Dr Daniel Holman

Research Fellow at the Healthy Lifespan Institute at the University of Sheffield and the Department of Sociological Studies
It is good to see the government recognise the critical importance of investing in children and reducing inequalities in outcomes for children from disadvantaged areas. However, disappointingly, the paper details no clear plans on investment in high quality early years care. 
 
"We know that disparities in learning, health and development emerge early on and that investing in the early years pays off in the long-term. Access to high quality early years care has been shown to be crucial in levelling early years disparities and enabling disadvantaged children to thrive. Therefore, I'm surprised the government has not focused any of their mission on supporting early years care. Specifically, focusing on school readiness, supporting families of young children so they are best placed to support their children, and raising the early years pupil premium."

Dr Emma Blakey

Senior Lecturer in Developmental Psychology at the University of Sheffield
Flagship institutes
The University's four flagship institutes bring together our key strengths to tackle global issues, turning interdisciplinary and translational research into real-world solutions.