Martyn Ware of The Human League and Heaven 17 to become Doctor of Music at the University of Sheffield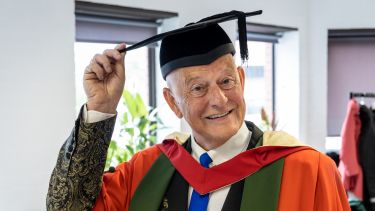 Ware, of The Human League and Heaven 17, will be made an honorary Doctor of Music at the University of Sheffield
Ware maintains strong links with Sheffield and is a Patron of the city's Sensoria Festival
He joins four other notable public figures with links to the city who will be awarded honorary degrees in the spring graduation ceremonies
The honorary degree recognises the pivotal role and influence Ware has had in Sheffield and on the electronic music scene
Martyn Ware, of The Human League and Heaven 17 fame, will be made an honorary Doctor of Music at the University of Sheffield today (Wednesday 11 May 2022).
During the spring graduation ceremonies at the University of Sheffield held this week, five notable public figures, including Ware, with links to the city will be awarded honorary degrees alongside the latest cohort of graduating students.
Born and raised in Sheffield, Martyn Ware is best known as a founding member of The Human League and Heaven 17, and as a leading record producer working with artists such as Tina Turner and Erasure.
Ware has not only played a part in the legendary Sheffield music scene, but also a pivotal role in its creation. Although his career in popular music is unprecedented, with his name as producer appearing on some 50 million records, Ware still maintains strong links with the city as a Patron of Sheffield's Sensoria Festival; a unique mix of live performance, film screenings, installations, exhibitions, plus music and film industry activity at venues across Sheffield.
As a passionate educator on popular music and music production, Ware speaks frequently about the future of electronic music and holds numerous visiting professorships recognising his services to music.
Ware said: "I am completely thrilled to be awarded this magnificent honour, particularly in my hometown where I started my musical career. I'm passionate about education - I teach MA Songwriting and production - and would love nothing more than to be a real professor - considering I've never had a music theory lesson and never went to university!
"In a nutshell, this is a dream come true, thanks to the University for making it real."
Professor Adrian Moore from the University of Sheffield's Department of Music, said: "Over his notable career, Ware has been at the forefront of new technological development in sound recording and surround listening, and as a composer of popular music and experimental soundscapes and installation pieces.
"His invitation to join the University's Department of Music will further our excellence in the creative sonic arts. We welcome Dr Ware to the University of Sheffield's vibrant musical community."
Ware will be joined by four other honorary graduates who will all be recognised this week for their own unique contributions to Sheffield, including:
Chris Rea will be receiving a Doctor of Engineering. Fellow of the Institution of Mechanical Engineers and former Deputy Lieutenant for South Yorkshire, Rea, an economics graduate, founded and grew ASSEAL into a major international company, now employing 1,700 staff and operating in 230 locations worldwide as the world's 4th largest mechanical seal manufacturer for a wide range of industries. In 2011, ASSEAL created a £1 million charitable fund donating to the South Yorkshire Community Foundation.
Robert Griggs will be receiving a Doctor of Medicine. Highly distinguished Neurologist Professor Griggs specialises in neuromuscular diseases, with a focus on experimental therapeutics and has received many teaching awards. He is currently Professor of Neurology at the University of Rochester School of Medicine and Dentistry, USA and has involved Sheffield Neuroscientists in several important initiatives in the US, including translational neuroscience symposia and membership of high impact journal editorial boards.
Sam Chapman will be receiving a Doctor of Engineering. Alumnus Dr Sam Chapman has excelled in his chosen career, as CIO and co-founder of The Floow. The company has changed the telematics industry by making use of data and social sciences in order to change driver behaviour and lower the risks on our roads. Dr Chapman has led the digital industries sector of Sheffield, has advised the Parliamentary Advisory Council on Transport Safety (PACTS) and taken part in government trade missions overseas. He is a strong advocate for the city, encouraging other digital businesses to make their base in the region.
Professor Paul White will be receiving a Doctor of Letters. Professor White has had a distinguished academic career at the University of Sheffield and in the HE sector, joining the University's Department of Geography in 1974 and rising to become a Professor of European Urban Geography. In 2006 the quality of Professor White's research was recognised when he was presented with the Royal Geographical Society's Edward Heath Award for contributions to research on the geography of Europe, and in 2011 he was elected as a Fellow of the Academy of Social Sciences. He retired in July 2016 as Professor of European Urban Geography and in the same year received an OBE for services to higher education.
---
Flagship institutes
The University's four flagship institutes bring together our key strengths to tackle global issues, turning interdisciplinary and translational research into real-world solutions.