New software TopoStats accelerates DNA discoveries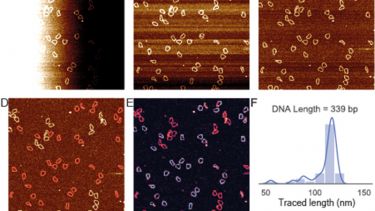 New software, TopoStats, allows researchers to quantify the structure of DNA as it "dances" over a surface 
TopoStats massively reduces the time needed for researchers to analyse their data, allowing them to quantify the structure of thousands of molecules
TopoStats is applicable to a variety of scientifically interesting samples, so will be useful for many researchers working in biomolecule imaging 
Software could help to accelerate the development of new gene therapies
A new software package, TopoStats, allowing scientists to quantify how small circles of DNA change their structure has been developed by researchers at universities in the UK and Germany.
The software can identify single DNA molecules from extremely high resolution images taken using a specialised "atomic force" microscope (AFM). The software can then trace the shape of each DNA molecule, to determine how it varies as it dances.
Traditionally, AFM images have been manually and individually analyzed, a time consuming process relying on a highly trained and experienced researcher. This became a rate-limiting step for AFM in the analysis of large datasets, containing 100's of images.
The automated software produced in this study solves this issue, as images can be automatically analysed as they come off the microscope in a couple of seconds. TopoStats then can combine the analysis of these 100+ image datasets, and automatically produce graphs of statistical data ready for publication. 
Dr Joseph Beton, lead author in the study said: "TopoStats can potentially save massive amounts of research time and money, allowing scientists like me to focus on making new discoveries, rather than fairly boring manual data analysis."  
Beyond DNA structure, the researchers have shown TopoStats is a flexible tool for analysing the structure of a variety of biomolecules. These include massive Nuclear Pore Complexes, which act as gateways to DNA in our cells, embedded in a native nuclear envelope, to the Membrane Attack Complex, a pore forming toxin that our immune cells use to kill bacteria. TopoStats functionalities even extend to man made nano-structures, as shown by effective tracing of a DNA-origami pore complex, decorated with flexible proteins.
The effectiveness and potential of TopoStats for image analysis, molecule identification and tracing have been demonstrated in a recent study of DNA structure. Here, TopoStats could track changes in DNA structure as molecules "danced", by tracing the changing structure of the molecules.
The new paper in Elsevier Methods describes the software in detail in a stand alone paper, allowing any researcher to carry out quantitative analysis of biomolecules in atomic force microscopy (AFM) images. 
The TopoStats software package is available for free and listed online as an open-source repository. This repository also acts as a site for community discussion and further software development. 
Dr Alice Pyne, corresponding author at the University of Sheffield's Department of Materials Science and Engineering, said: "We developed TopoStats as a way to enable researchers in AFM to rapidly analyze and quantify their data, and hope that it will form the basis of a growing community movement to increase the use of data analysis in AFM."
Contact
For further information please contact: