New study identifies who is most likely to 'panic buy' in times of crisis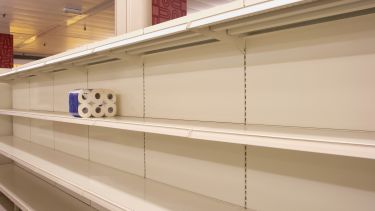 Largest study of its kind, conducted in the early phase of the Covid-19 pandemic and informed by animal-foraging theory, looks at the psychological factors that can motivate us to panic buy in times of crisis
Study showed that only about a quarter of people engaged in high levels of stockpiling, buying more than they needed across a wide range of products
If you are young, female and a parent, you are more likely to over-purchase necessities such as toilet rolls and non-perishable food stuffs
Findings could inform policy on responding to future national and international emergencies
The panic buying of toilet rolls and pasta during the early days of the Covid-19 pandemic may seem ridiculous now, but the over-purchasing of such necessities is surprisingly common in times of crisis.
The psychological factors that may motivate people to engage in hoarding the necessities, even when there is little reason to believe they are in short supply however, is still not well understood. So researchers from the University of Sheffield partnered with Royal Holloway, University of London to publish the largest ever study into the phenomena in the journal PLOS One.
Using survey data collected last year from the UK and Republic of Ireland in the earlier days of the pandemic when social restrictions were first introduced, the researchers used an animal foraging theory - our natural inclination to collect and store resources -  to draw links between the demographic, situational, and psychological factors to predict what makes people susceptible to over-purchasing.
Survey participants reported their purchasing behaviour during the social restrictions, as well as income, psychological distress, how connected they were to their local community, and other factors that might have impacted their behaviour when shopping for life's necessities.
Leading the research was Richard Bentall, a Professor of Clinical Psychology at the University of Sheffield. He said: "Over-purchasing is especially common in developed countries like the UK in response to times of national crisis, such as pandemics, earthquakes and wars, and can lead to shortages of products at the time. 
"This is despite these countries usually having the expectation of a plentiful supply of the things we need to survive. Our research aimed to predict who may be more susceptible to the behaviours which motivate panic buying."
The study found panic buying across a wide range of products was more likely to be associated with women and those living in higher income households with children, or having a recent or expected loss in income; supporting the natural animal-foraging survival strategies people employ during times of crisis.
Those who reported psychological distress such as a threatened sense of security, felt a higher sense of uncertainty or mistrust in other members of their community, and were also more likely to over-purchase a wide range of products, along with those who used panic-buying as a coping mechanism for anxiety.
Unexpectedly, people who reported a strong sense of community belonging engaged in panic buying, which could be accounted for by the sharing of information about shortages spreading through communities and causing anxiety amongst its residents.
It seems most of the participants were also reluctant to admit to the hoarding of household necessities. Although 75 per cent of the participants reported that they did not engage, or seldom engaged in panic buying, the study found they did so across a wide variety of products.
Professor Bentall said the research could be used to inform future national government policy to mitigate any product shortages during future crises:
"Governments who wish to avoid the shortages caused by panic buying need to pay attention to the psychology of this phenomenon and the cues that provoke this kind of behaviour.
"Using data such as that gathered in this study, can be used to inform future national policy to mitigate product shortages during future crises by planning for them, boosting resilience in the retail sector and targeting reassurance at groups prone to over-purchasing."
---
Flagship institutes
The University's four flagship institutes bring together our key strengths to tackle global issues, turning interdisciplinary and translational research into real-world solutions.