Patients and healthcare professionals call for urgent action to lift the burden of respiratory disease, as societal costs spiral to £86.2 billion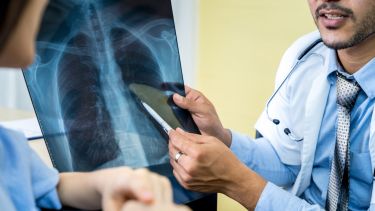 New research, conducted by the University of Sheffield, shows benchmarked societal costs for the most significant respiratory conditions in the UK totals £86.2 billion
The findings also estimate there are 136,000 deaths from respiratory disease and 16.8 million people living with respiratory disease in the UK
International Respiratory Coalition (IRC) recognises an increase in respiratory disease prevalence and mortality causing unsustainable pressure on health services in majority of countries – but not enough is being done
The new manifesto shows a significant proportion of the burden is preventable and calls for more concerted action to drive earlier diagnosis via lung-health checks, improving prevention and access to treatment, whilst reducing widening inequalities in care
Patients and healthcare professionals are calling for urgent action to lift the burden of respiratory disease as benchmarked societal costs spiral to £86.2 billion.
New research, conducted by the University of Sheffield and commissioned by the International Respiratory Coalition (IRC), also estimates there are 136,000 deaths from respiratory disease per year and 16.8 million people living with respiratory diseases in the UK.
As a result of the findings from the University of Sheffield's School of Health and Related Research (ScHARR), the IRC – a coalition of healthcare professionals, patients and industry partners led by the European Respiratory Society (ERS) – is now calling on policymakers in World Health Organisation (WHO) European region countries to create clear and measurable national strategies to transform post-pandemic respiratory care and reduce mortality from respiratory diseases by a third globally by 2030. This is in line with the United Nations Sustainable Development Goals.
The Chair of the IRC Operational Committee, Professor Guy Joos, said: "At a time when our health services have never been under greater pressure, our economies are trying to bounce back from Covid-19 and prevalence of respiratory conditions is rapidly increasing, it is vital that we do more to improve and save the lives of people living with or at risk of these many diseases."
ERS President, Professor Carlos Robalo Cordeiro, added: "As a clinician, I know from experience that better action on respiratory conditions can save and improve lives, whilst also reducing hospitalisations and increasing the resilience and productivity of our health services. But not enough is being done. It is shocking that though most respiratory diseases are preventable, concerted action has stalled.
"Urgent action is required to set and deliver clear and measurable national strategies for respiratory care in every country, to lift this burden. The first step should be to establish population-wide lung health checks. This is because early detection of respiratory diseases can significantly increase the chances of survival and improve treatment outcomes and quality of life."
Respiratory conditions have a significant societal and economic cost, with the burden negatively affecting healthcare systems, impacting the lives of patients and their families, lowering productivity and widening the gap in life expectancy between the poorest and wealthiest.
The new research by ScHARR provides policymakers with a benchmark societal value for the economic burden of respiratory diseases to inform their investment strategies. 
Dr Matthew Franklin, Senior Research Fellow for ScHARR at the University of Sheffield, said: "In essence, gross domestic product per capita is used to scale the value of the disability-adjusted life-year burden associated with lung conditions to the resources available in each country to tackle the burden. 
"This benchmarked societal cost is used as a reference point to suggest how much should be invested in lung care based on the equivalent potential societal cost of the lung condition burden.
"The intention is to enable more informed negotiations with policy and decision makers as to the burden of lung conditions, which could be used to guide financial investment in alleviating the burden of lung conditions."
The IRC includes representatives from patient groups, who are calling for more action to be taken, to lift the burden of respiratory disease.
"Struggling for breath is one of the most terrifying experiences anyone can ever have. It is obvious to us as patients that poor lung health has gone on too long without the attention it needs," said Dimitris Kontopidis, Vice President of the Greek Patients Association.
The analysis from the IRC Expert Group reveals a concerning gap in policy commitment, especially around prevention and diagnosis, for the most frequently diagnosed respiratory conditions, despite a continued rise in incidence and mortality rates across Europe. The next pandemic is also highly likely to be a respiratory illness[6], and capacity building for respiratory health can help strengthen the eventual response.
The IRC has launched a Manifesto, which sets out the aims and objectives of the organisation and explains the urgent need to tackle respiratory diseases.
It has created powerful coalitions in 12 countries to date. The IRC is calling on governments and policymakers to establish funded national respiratory strategies, which include prevention, new models of care, ambitious measurable targets, and accountable leadership to improve lung health by focusing on better:
1.     Prevention of respiratory diseases - Implementing preventative approaches, increasing vaccination coverage rate across all ages and addressing the impacts of climate change and environmental pollution.
2.     Access to the right treatment at the right time - Lung health checks to aid earlier and more accurate diagnosis, and ensuring integrated primary, secondary, and tertiary care - fostering holistic patient management, improving access to evidence-based therapy and implementing respiratory guidelines at every level of care, with financial incentives to drive improvement.
3.     Action on reducing inequalities – Putting people and their rights at the centre of respiratory health and addressing the social determinants of poor health to improve accessibility and delivery of healthcare by prioritising marginalised and hard to reach communities, for example, through better involvement of community leaders and health networkers.
4. Prioritisation of research, data and insight to improve care - Focusing on research and insight into innovations in treatment and care to advance lung health, such as AI, use of real-world data and evidence, novel therapies, trials design, targeted research strategies and data registries to focus on inequality and areas of greatest need.
Additional information 
To view the IRC Manifesto in full please visit: https://international-respiratory-coalition.org/wp-content/uploads/2023/06/IRC-Manifesto-Final.pdf
[1] NHS England, "Hundreds of people diagnosed with cancer early through life-saving NHS lung checks", 19 April 2022
[2] Franklin et al, "How Much Should be Invested in Lung Care Across the WHO European Region? Applying a Monetary Value to Disability-Adjusted Life-Years Within the International Respiratory Coalition's Lung Facts", 11 April 2023
[3] International Respiratory Coalition, "Diseases – International Respiratory Coalition", May 16, 2023
[4] Haifeng Li et al, "Health Inequality in the Global Burden of Chronic Obstructive Pulmonary Disease: Findings from the Global Burden of Disease Study 2019", 28 July 2022
[5] Helen A Powell, "Socioeconomic deprivation and inequalities in lung cancer: time to delve deeper?", 12 August 2018
[6] Heymann et al, "The next pandemic – when could it be?", 23 February 2023
Flagship institutes
The University's four flagship institutes bring together our key strengths to tackle global issues, turning interdisciplinary and translational research into real-world solutions.