Pint of Science aims to get scientists out of the lab and into your local pub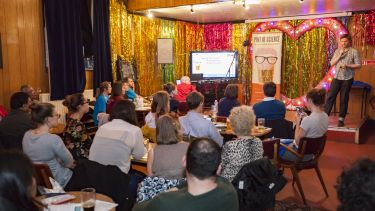 World's largest festival of public science returns to Sheffield 
More than 40 University of Sheffield academics will appear in the city's pubs for talks, demonstrations and live experiments 
Sheffield joins nearly 500 cities around the world taking part in the eleventh year of the global festival
Tickets are on sale now at: pintofscience.co.uk
Tickets are now on sale for the world's largest festival of public science talks, Pint of Science, which will see University of Sheffield scientists take to the stage in venues across Sheffield (Monday 22 May - Wednesday 24 May).
The Pint of Science festival will bring scientists and their research out of the lab and into pubs, cafes and community halls near you, for a unique line up of talks, demonstrations and live experiments held in relaxed and informal environments around Sheffield.
Each night University of Sheffield researchers will be speaking at venues across the city, including The Sheffield Tap, Crookes Social Club, 99 Mary Street  and Sidney & Matilda. 
One of this year's presenters, Dr Monika Myszczynska from the University of Sheffield's Department of Neuroscience, said: "A key component of the festival is that attendance is open to anyone who has even a passing interest in the realm of science and research, so there's no need to feel intimidated if you don't consider yourself a scientist or expert!  There's something for everyone and it's a fantastic way to learn about our research in a relaxed and friendly environment." 
Attendees in Sheffield will enjoy a variety of exciting talks including:
Dr Lewis Blackburn discussing what the UK can do with all its radioactive waste and a solution for disposing of its legacy waste.  
Professor Steve Armes talking about how space scientists can analyse the chemical composition of cosmic dust including the dust found in Saturn's rings.
Dr Katy Barnes will explain how the gut and brain are in constant conversation, as has become apparent in conditions such as Alzheimer's and Parkinson's and the impact of gut bacteria on brain health. 
Dr Monika Myszczynska will discuss how Artificial Intelligence (AI) can assist clinicians understand the human brain and AI's role in disease diagnosis and therapy in neuroscience.
Professor Ed Daw will talk about the coldest place in Yorkshire, a very fancy transistor radio, and what all this has to do with dark matter and the quantum computing revolution.
Speaking about her talk, Dr Myszczynska added: "Artificial intelligence and its applications to everyday life remain a divisive hot topic both in the media and in academic settings. Whilst machine learning exists in the popular imagination as talking robots, or algorithms that can recommend a new film for us to watch, its uses in medicine can help us understand the very organ AI is meant to mimic - the human brain.
"My talk will attempt to shed some light on how and to what end AI is being used to study  neurological disorders such as Alzheimer's disease, Parkinson's disease, or motor neuron disease - from an initial diagnosis to treatment implementation. Trust me, it's no science fiction! "
Tickets are £5 and can be purchased now at pintofscience.co.uk, which has further event details.
Alongside the main talks, this year audiences will also have the opportunity to visit an exhibition of art, science and sustainability titled 'S_A_L_E (Sustainable Action Lifestyle Emporium) - Everything must go?' which is a University of Sheffield collaboration with local artists Paul Evans and Anthony Bennett. The artwork consists of pieces that encourage refugees to grow vegetables, how paint works, how to make rust more beautiful and sustainable solutions from the Zaatari refugee camp in Jordan. The exhibition will be held at the Moor Market and will also feature free drop-in sustainable art workshops with local artists running 11am - 3pm on Saturday 27 May.  
Pint of Science founders Dr Praveen Paul and Dr Michael Motskin were UK research scientists in 2013 when they decided they wanted to bring back the personal touch to science. From three cities back then to nearly 500 cities this year, the festival continues to showcase the brilliant work happening on our doorsteps. Events provide a platform for researchers to share their stories and give audiences an opportunity to ask their questions about science to those directly behind it.
---
Contact
For further information please contact:
A world top-100 university
We're a world top-100 university renowned for the excellence, impact and distinctiveness of our research-led learning and teaching.