£4 million awarded to University of Sheffield to turn bright ideas into global opportunities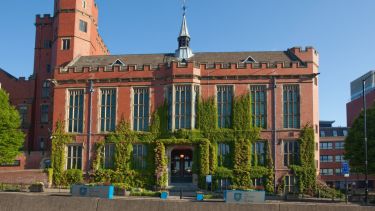 The University of Sheffield has been awarded £4.29 million in funding from UK Research and Innovation (UKRI) through the Impact Acceleration Account (IAA) 
IAA funding is awarded to the best and brightest ideas emerging from UK organisations to support critical early-stage translation of research
The University has received IAA funding for over 10 years contributing to research supporting the development of new and innovative technologies
The University of Sheffield has been awarded £4.29 million in funding from UK Research and Innovation (UKRI), to jumpstart the early-stage translation of research that can create real impact for people across the UK.
The University is one of 64 UK universities and research organisations to be awarded IAA funding and in the top 10 in terms of the highest amounts of funding from UKRI's £118 million pot of IAA funding. The funding will support critical early-stage translation of UK research, knowledge exchange, translation and commercialisation.
IAA funding drives economic growth and attracts private investment, allowing research to be turned into reality through the development of new technologies. It also supports evidence-based policymaking to transform public services, create new jobs, and forge new partnerships with business and charities.
The programme empowers organisations to respond to emerging global opportunities and has provided early-stage support to projects that are now established global businesses. 
IAA funding has supported successful knowledge exchange projects at the University of Sheffield for more than 10 years, including:
University of Sheffield spin-out company, Rinri Therapeutics, raised a total of £10 million from investors and the UK Future Fund to advance its novel stem cell therapy to restore hearing loss. Based on innovative research into auditory stem cells led by Professor Marcelo Rivolta at the University, the biotechnology company is developing a therapy to restore hearing through the repair of the damaged cytoarchitecture in the inner ear.
 
Academics from the University of Sheffield's Department of Sociology won an Outstanding Societal Impact award from the Economic and Social Research Council (ESRC) in 2019 for research into infant post-mortems. The project explored the role of the post-mortem and minimally invasive post-mortem examinations using Magnetic Resonance Imaging (MRI). Combining this knowledge with interviews of bereaved families and staff, better information can now be provided about post-mortems to parents including details of the personal care that hospital staff give. As a result, take up of examinations is increasing in Sheffield.
 
Academics from the University of Sheffield's Department of Physics and Astronomy are using detector technology developed for the T2K neutrino experiment to make a new cosmic muon detector for imaging civil infrastructure. The technology, now fully patented in the UK, was the basis of a new spin-out company, Geoptic Ltd, which launched in November 2019 and is using the technology in railway tunnels to locate hidden voids and density anomalies to monitor structural integrity and allow for improved public safety.
Vice-President for Innovation at the University of Sheffield, Professor Dave Petley, said: "For the University, our innovation and knowledge exchange activities are vital to meeting the challenges society faces, whether this is generating economic prosperity through spin-outs and new ventures, establishing collaborations with our regional partners to improve health and patient care or delivering projects to tackle societal and sustainability challenges.  
"The University has a strong ambition to drive innovation through knowledge exchange with our partners. Just one example is the development of innovative start-ups and spin-outs through Northern Gritstone, a company created jointly with the Universities of Manchester and Leeds to invest in our spin-out companies. 
"Last month, Northern Gritstone announced a first close of £215 million, which will lead to investments across emerging sectors such as advanced materials, health technology, cognitive computation and AI in northern England." 
UKRI Director of Commercialisation Tony Soteriou, said: "The UK is home to some of the brightest, most innovative and creative research teams in the world.  They have the ideas and they have the entrepreneurial energy to create businesses and services that could turn sectors on their head.
"What they need, what every great commercial idea needs, is support in the critical early stages.  The Impact Acceleration Account is the catalyst that allows projects to grow to the next level, attracting investment, forging partnerships and creating jobs.
"The breadth of UKRI allows us to work right across the UK's world-class research and innovation system to ensure it builds a green future, secures better health, ageing and wellbeing, tackles infections, and builds a secure and resilient world."
UKRI Chief Executive Professor Dame Ottoline Leyser, said: "Research and innovation has the potential to improve people's lives and livelihoods, rejuvenating communities across the UK and tackling global challenges. It is imperative that we harness that potential.
"The path between discovery and impact is not simple and so it is vital that we provide flexible support that allows talented people and teams, and world-class institutions to connect discovery to prosperity and public good.
"Our impact acceleration funding has a fantastic track-record in providing support that helps brilliant ideas become realities that make a real difference."
---
Flagship institutes
The University's four flagship institutes bring together our key strengths to tackle global issues, turning interdisciplinary and translational research into real-world solutions.