Robots reduce anxiety in children during hospital visits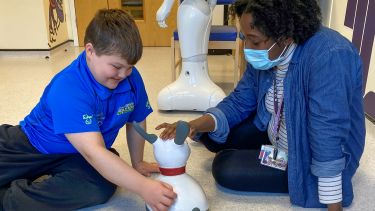 Social robots that can be programmed to move, talk and even dance are helping to reduce anxiety in children during visits to hospital
A new study led by the University of Sheffield and Sheffield Children's Hospital is investigating the emotional impact and reaction of children on meeting social robots
It is hoped that social robots can be used more widely in the future to help reduce the worry and distress levels in children visiting hospital
A new study from the University of Sheffield is investigating how social robots can help to reduce anxiety, worry and distress in children during visits to hospital.
Researchers will explore the types of interactions between social robots - which interact with humans through speech and movements -  and patients aged five to 12 at Sheffield Children's Hospital.
Led by PhD student Brenda Littler, the Sheffield team will assess the reaction and emotional impact of meeting the robots which are thought to help reduce negative feelings in children who often feel nervous about going into hospital.
Brenda Littler, PhD student and Lead Researcher from the University of Sheffield's School of Health and Related Research (ScHARR), said: "Some children who come into hospital might be with us for a number of hours, so being able to offer them something fun and new to entertain them and help their wellbeing is great. I am hoping the results of the study will help us understand how social robots can fit in a hospital and work alongside staff, and how we can go about introducing them in different settings.
"Conducting research at Sheffield Children's has been an amazing experience. Everyone has been so helpful and supportive. I have met amazing health professionals who really care about their patients and are there to make a difference in these children's lives."
Ten-year-old Brandon visits Sheffield Children's Hospital every two weeks for treatment for eczema which he has suffered with since the age of two. Eczema is a condition which causes the skin to become itchy, dry, cracked and sore.
Brandon's appointments can last between four to five hours, but meeting the robots has helped to make them a lot more interesting. He met Pepper, a tall humanoid robot, and MiRo, an animal-like robot. Pepper can be programmed to move, talk, and even dance, while MiRo can make animal-like sounds and has sensory and motor abilities. 
"Pepper is my favourite because it can play the saxophone and is really funny. I also liked MiRo's squishy ears!" said Brandon.
Brandon's mum, Leanne, said: "Taking part in this research has been really interesting. Brandon absolutely loved meeting the robots at the appointments and even asked if he could take Pepper home with us! Pepper told Brandon a story, danced and followed him around which he thought was great.
"Brandon's eczema comes and goes, but it's been really bad for the past two years. I also suffer with eczema myself and was treated at Sheffield Children's when I was little, which is why I wanted Brandon to be seen here."
Professor Paul Dimitri, Professor of Child Health and Consultant in Paediatric Endocrinology at Sheffield Children's Hospital, is supervising the project. He said: "Sheffield Children's is committed to advancing the care of the children and young people we look after through the use of new and exciting technologies. Social robots have the ability to support our patients, some of whom have complex and challenging journeys due to ill health. 
"Brenda's work is ground-breaking in helping us to understand how our patients react and respond to different types of social robots, and how we best use them in children's healthcare. As a leader in child health technology, Sheffield Children's is developing a diverse range of novel technologies as part of the National Institute for Health Research (NIHR) Children and Young People MedTech Cooperative, established to support the development of world leading technologies for children's healthcare."
The robots visited three other areas of Sheffield Children's – the Theatre Admissions Unit, Haematology and Oncology Unit, and Ward 3.
The project is a collaboration between the University of Sheffield, Sheffield Children's, University of Sheffield, and Sheffield Hallam University. It is sponsored by Sheffield Children's NHS Foundation Trust.
---
Contact
For further information please contact:
Flagship institutes
The University's four flagship institutes bring together our key strengths to tackle global issues, turning interdisciplinary and translational research into real-world solutions.